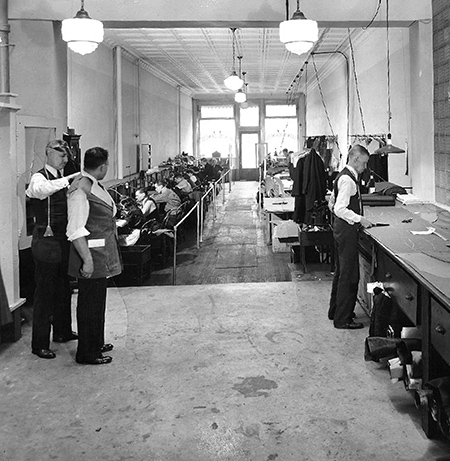 You'd need a long memory to recall a time when there wasn't a billboard above 809 N. Delaware St. announcing the presence of Leon Tailoring. That sign has been there since 1967 when the business—which Leo and Sadie Ettinger opened in 1905 under the name Leon the Tailor—moved from 235 Massachusetts Ave. into the buildings it's now occupied almost 50 years.
Since then, Leon Tailoring has survived the natural business cycles, not to mention a bus and car crashing into the building (1973) and a fire that gutted it (1980), to become what that billboard proudly proclaims to be the "Largest Merchant Tailor in the U.S.A."
Brothers Larry and Norman Ettinger run the business along with Kim Bayer and Judy McQueen. They make custom suits for men and women and also sell ready-to-wear clothes and accessories.
"We're a full-service house," Larry said. In an interview at the store, amid thousands of bolts of fabric, Larry talked about what's kept Leon Tailoring going for 111 years. (Norman was home, recovering from foot surgery.)
Was there ever any doubt you were going into the family business?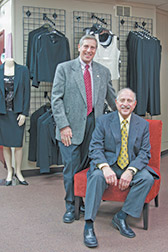 Larry, left, and Norman Ettinger are third-generation owners of Leon Tailoring.
Actually, no. My father told me, "You can study whatever you want, but you're coming into the business." I have three college degrees, and I'm a tailor by trade. I went to Purdue for engineering and IU for business, finance and accounting, and then I studied law. Everything I have studied over the years, I have used in this business at some time or another.
Norman wanted to become a doctor. He majored in zoology in college and started to go to medical school. Then my father said, "We really need you in the business." So he did. Norman is an artist. He has golden hands.
Was this considered a good location when you moved here?
We weren't sure. We were looking to buy the building next to the Athletic Club at Meridian and Vermont, but there was no parking. My father and I were driving north on Delaware one night and there was a sign on the side of the St. Clair Street building that said "For sale," and it gave the name. Dad says, "I know that guy. I'll give him a call." We no sooner drove two seconds farther and the limestone front of this building had a for-sale sign on it. I looked at it and I said, "Dad, I know that guy." We made two phone calls the next morning and within a matter of two days, we had bought two buildings.
Tell me a funny Leon Tailoring story.
They call me the serious one. My brother is the comedian. Norman laughs and jokes with everybody. If I tried to get away with that, they would scream at me. Norman is a jovial individual, and I'm very serious because I've always been put into the position of having the responsibilities like that. If something goes wrong, it comes to me.
How long does it take to make a suit?
We are on a minimum—and so is everybody in the business—four-week schedule.
Have you ever had to make a rush suit?
We try not to disappoint anyone. We have clothing on the racks. We can take a pair of pants apart and recut it—which the stores don't have a clue how to do—and we can do fittings and alterations. Just last week, I had someone come in and say he had to have a suit in 24 hours. He had been told by his boss he had a meeting in Washington, D.C., and he said, "I don't have a suit that would be comparable to something I need." This was a Thursday. Friday, he picked up his suit, and he left for Washington Saturday morning. So the answer is yes. We can do what nobody else can do.
What's a price range for a custom-made suit?
A good tailor-made suit, which is made to the nearest quarter of an inch, will start at $1,195. We are competitive with the good department stores like Saks or Nordstrom or Neiman Marcus.
Do you make clothes for yourself?
I do when I have time. We make all our clothing at this location.
Any famous customers?
A ton of them. Will I give you names? The answer is no because that's not exactly fair. There's an element to privacy. I will tell you: Our customers are everywhere. We are actually sending clothing to customers in 41 different states. These are people who fly in or drive in to buy their clothes or they have been here at one time or another. They come in, we get their measurements and we keep them on file.
You are 76 and Norman is 72. Do you have a plan for succession?
We have a plan. Let's leave it at that.
What direction is business going?
That's the question of the year for any retailer. You are somewhat dependent on the economy. Let's face it: You're not going to sell the executive two suits if he thinks he's in danger of losing his job. Our business is holding its own. But you worry about it every day of the week. It's not an easy business. Our survival is because we are personally involved in the business. We are the business.•
Click here for other interviews.
Please enable JavaScript to view this content.