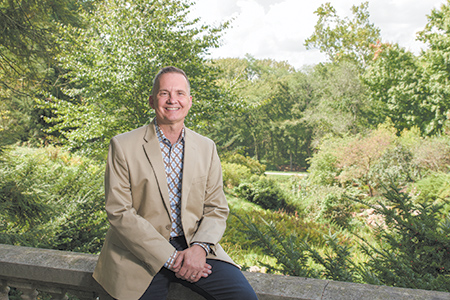 In April 2015, the previously free Indianapolis Museum of Art enacted a controversial $18 general admission price. The goal wasn't to increase individual admissions revenue but, instead, to increase memberships, eliminate special exhibition charges, and create a more vibrantly programmed campus. IMA Director and CEO Charles Venable, 56, now has seen more than a year of museum attendance under the new configuration.
Run the most recent numbers by me.
Membership continues to climb. We are about up to 16,000. When I arrived, we were a little over 5,000. [Note: The number was closer to 9,500 just before the admission charge was enacted.] And visitors are spending significantly more time here.
How about number of visitors?
In the past, we didn't have an easy way to count people or get to know who they were. We used an old door-counting system with heat sensors. Now, people are checking in. Traffic has continued to climb or to be steady. It hasn't declined. We know it's about 250,000 annually.
Scott Stulen [the IMA's curator of audience experiences and performance], who had a lot to do with the high-profile, non-exhibition programing, recently moved on.
Whenever a curator leaves, we want to see what worked and what we could do better. We're talking to people across the country who might want to come to Indy and produce great programs. And we have other curators here working on things.
So the position will be filled? 
We are engaged in talking to people. I created the position to have someone with great talent creating an exciting program. Now I've created a director of hospitality position looking at food and beverages as part of programs. Scott did some of that, but we now have a creative individual with talent who takes that to the next level. And we now have someone working in the same vein in the horticultural area.
We want someone who can work with these other people to produce large-scale events. We have the skill set to welcome 5,000 people a day now. We only do that with Penrod [Arts Fair], but we want to do that with other events.
What's the internal takeaway from the popularity of IMA Mini Golf?
We've been doing a huge amount of research in audience building. We know there are a lot of people in central Indiana that want to have cool, curated experiences. They want a little bit of art but they want them outside. Mini golf is drawing exactly the group we thought. We're getting a younger group that will come out with friends. And they're coming out during the day, not just Thursday and Friday nights.
We're looking at how to get people here who want large social gatherings—people interested in "purposeful play." That's going to require us to continue to push the envelope. We want to be going in that same direction while still doing enough of the traditional material so core audiences still feel it's the IMA they always loved.
The upcoming season seems to have more of an outdoor focus.
For a long time, we had many things outdoors [but we've been] looking at how to intertwine art and nature ever more closely. It gives us a unique profile. Very few museums can do what we can do out of doors. It's totally intentionally.
This will be the first time we are doing a major spring display in our gardens—where we'll treat the gardens as an exhibition space with 200,000 bulbs blooming. And we're looking at a major holiday lighting design display in our gardens for the winter of 2017.
When you announced the plan, you said it would evolve based on what you learned. What has been tweaked?
We continue to improve signage and wayfinding inside and on the property. It can be a very confusing place if you don't know where you are going. The way the roadways were historically laid out on the property, most visitors to our gardens miss about half the gardens.
Also, we need to better utilize our terraces. We do Friday night movies in summer, but beyond that, we don't do anything in that fabulous amphitheater. We're getting so much more information so, in the fall and next year, you may see changes in hours. Do we need more evenings? Tuesdays are hard for most people. Should we take those hours and open Friday and Saturday nights? We don't know the answers, but we're talking about those kinds of shifts.•
Click here for other interviews.
Please enable JavaScript to view this content.