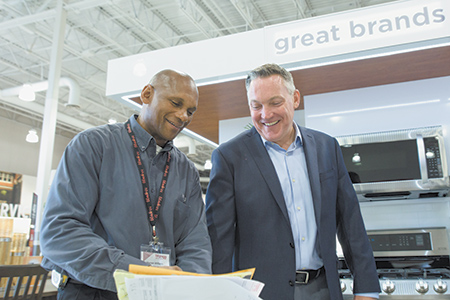 Robert Riesbeck, 52, joined HHGregg Inc. in September 2014 as chief financial officer and became CEO in February following the departure of his predecessor, Dennis May.
Now, the task of turning around the struggling electronics and appliance retailer falls on Riesbeck, a former executive of Sun Capital Partners, whose holdings include Marsh Supermarkets.
Riesbeck aims to boost results in part by doubling down on appliances—a strategy that includes opening more locations of the super-premium Fine Lines chain.
How badly did you want the job as CEO?
I didn't necessarily strive to get the job. But now I want the job. I appreciated what Dennis had done to build this business from where it was, at 20-some stores, to 226 stores. He had the right model at the right time, and then they hit a wall. Consumer electronics going to Amazon and other parties caused that wall. And I don't think they adapted fast enough after that. So they had a couple of tough years. I believe this company still has long-term viability. So from that standpoint, I love this job.
With the intense competition in both the grocery and electronics industries, do you see similarities between Marsh and HHGregg?
I like our space better than the supermarket space. There's competition, but I think that there's opportunity here. We took our eye off the ball a bit. We got into all kinds of things, whether it was fitness or mobile. I think that now we're trying to be a stable appliance business. We'll grow the furniture business, and the consumer electronics business is going to continue to be very competitive. But there's plenty of growth in appliances.
What is your management style?
My philosophy is to hire great people and let them do their jobs, provide direction and strategy, but don't over-manage.
What are some of the factors that have caused the company to struggle?
We didn't adapt to market change, especially around consumer electronics. It is a significant online business. It's going to remain a key part of our business, and it's going to continue to be a key part of our online business.
HHGregg seemed to bank big on high-end televisions during the last holiday season. How much will televisions play into HHGregg's sales strategy going forward?
We'll compete, but it's so commoditized to some extent that, unless a new technology comes out—we do well when that happens because it's typically led by the Samsungs and LGs of the world, but those second- and third-tier brands are quick to follow.
And I think that's what you saw in the last six months. You saw Vizeo get very competitive. Currently, we don't carry Vizeo. They are a brand that owns 20 percent market share. So when they got very competitive in the first quarter, we suffered. And then in the second quarter Samsung reacted to get back that market share, and that's what drove the prices down.
Why is HHGregg focusing more on appliances now?
Last year, we doubled the number of Fine Lines location. We ended the fiscal year in March with 11 of them. We've since opened three more. We've got a half dozen or so in the works right now. Our plan is to open 20 or 25 of them over the next 18 months. When we add a Fine Lines to an existing HHGregg store, it doubles our volume in appliances in that store. So it is a critical piece of our business. We also feel it differentiates us from the competition by the fact that the premium brands that we carry just help us.
What has surprised you the most so far about leading a company?
From a positive perspective, getting into this role, the passion of our sales associates, the talent we have in our regional managers and divisional vice presidents, and with our merchandising staff.
We've put together a great merchandising team. So I think that that's been the challenge, putting that team together, where I feel from a store-operations standpoint and a sales-associate standpoint, we're extremely strong.
What are things employees don't know about you?
My wife and I don't have kids. We're passionate about our dogs. My wife is very involved with the local low-cost spay/neuter clinic called FACE. I'm one of eight kids. That's probably something most people don't know. My siblings are primarily in the Columbus, Ohio, area, and I'm kind of the one that's been the nomad and has gone off and done different things. I'll be married 30 years in November, but I don't look like I've been married 30 years.•
Click here for other interviews.
Please enable JavaScript to view this content.