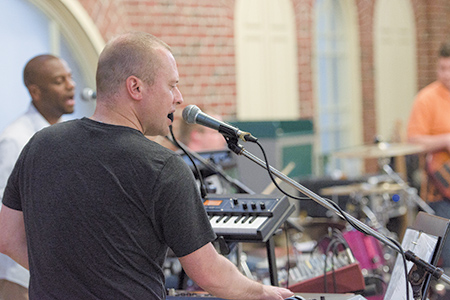 The president and CEO of Indy Chamber since 2013 and a former deputy mayor, Michael Huber, 40, is used to balancing the needs of a range of constituents.
As a founding member of the eight-piece party band Chamber Music, though, he's found his own rhythm.
I take it there wasn't a focus group and an economic impact study that led to the forming of Chamber Music.
We really got together as a one-off to play one evening [for a Chamber holiday party in 2014] and enjoyed it so much.
You're OK not being the leader?
I really prefer to be a background vocalist and arranger of vocals. I don't have the virtuosity-playing ability of Marlon Webb [Chamber Music's manager and Indy Chamber's business attraction and development manager], but I can play piano and Hammond organ and I know a little about programming a synthesizer.
With band members coming from a variety of backgrounds, was it difficult deciding the musical repertoire?
We wanted to do a kind of music that had broad appeal. I DJ a wedding or two a year and I've found the music with the most universal appeal and familiarity across generations is Motown and Stax [soul] and R&B. People aren't going to show up and hear obscure Parliament B-sides.
I assume the set list is different from what you play at St. Mary Catholic Church.
A lot different.
When was the first time that you—not the band—played in public?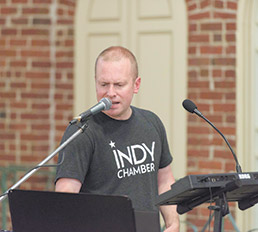 (IBJ photo/Eric Learned)
I was 10 years old, back in my hometown—Hillsboro, Illinois—playing accompaniment in church. In high school, I did regular accompaniments for the high school choir and was in an a cappella group.
Back up. The name of your a cappella group?
Guys in Ties. I was 16.
Who negotiates the contracts for Chamber Music?
Marlon Webb. I stay out of it. I don't make any money from the Chamber events. We also play a good number of non-profit events either for free or at cost. It's a completely separate entity from Indy Chamber. There's no official relationship. But we found it to be a good thing, to bring fun and music into what might otherwise be a typical event.
But your aspirations are more than garage band.
Right now, we're trying to position ourselves as one of the premier event bands in the city that plays classic soul and R&B and pop but also adds improvisation—a live performance element—as well.
[Recently] I stepped offstage at Hi-Fi and a friend who hadn't seen the band before said, "I came out here thinking it wasn't going to be very good, but I was blown away by the musicianship." I enjoyed that reaction.•
Click here for other interviews.
Please enable JavaScript to view this content.