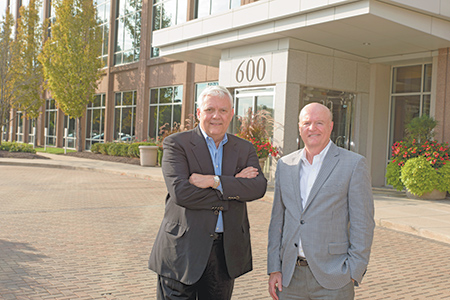 Two former top executives of Duke Realty Corp. are parlaying their experience at the publicly traded developer to take their real estate firm to new heights.
Gene Zink founded Strategic Capital Partners in 2005 and brought on Richard Horn as president in 2011 to help lead the small, north-side company.
It since has become aggressive developing and acquiring properties, capped off by its recent $162.9 million purchase with Philadelphia-based Rubenstein Partners of Parkwood Crossing, one of the area's largest and highest-profile office parks.
Overall, Strategic Capital has completed $500 million in transactions within the past two years. Its portfolio includes several office properties the company bought from Duke Realty, most notably Parkwood Crossing, near Interstate 465 and North Meridian Street.
Duke has been shedding office buildings lately as it turns its attention to industrial properties.
"In ex-Duke markets, they have ex-Duke employees, so our market intelligence knowledge is very good," Zink, 70, said.
But make no mistake, Zink and Horn, 58, are seasoned real estate experts armed with their own wealth of knowledge. Plus, many of Strategic Capital's 15 employees, roughly 80 percent, Zink estimated, hail from Duke.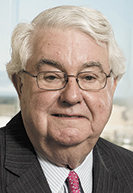 Smith
J. Albert Smith Jr., chairman ofJPMorgan Chase & Co. in Indiana, has maintained a banking relationship with Zink since his days at Duke.
"His approach to business is sort of a pessimistic approach," Smith said. "He's always very careful not to go too far out on the limb. He doesn't have rose-colored glasses on."
Zink, a Bedford native, was a lawyer at Bose McKinney & Evans LLP when he joined Duke in 1982. The company, founded by Phil Duke, John Wynne and John Rosebrough, went public in 1993, aided by Zink's guidance as chief financial officer.
From that time until Zink's departure in 2004, the real estate investment trust's market value grew from $600 million to more than $8 billion.
Horn joined Duke in 1986, fresh from law school at Indiana University. As company president, he led its expansion into Chicago, Minneapolis and St. Louis and grew its presence in Indianapolis and Cincinnati, in addition to Nashville, Tennessee, and Raleigh, North Carolina.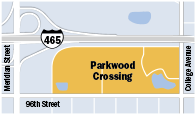 Horn left Duke in 2002, two years before Zink, to start Horn Properties to invest in and develop office, industrial and senior housing projects.
In the meantime, Zink teamed in 2005 with an executive at GE Capital in Chicago to raise $1 billion to start an investment fund and launch Strategic Capital. The company maintained offices in Chicago and New York until 2011, when it switched gears from fund management to acquisition and development upon Horn's arrival.
Though leading different firms, Zink and Horn shared office space for several years at Keystone at the Crossing before opting to join forces.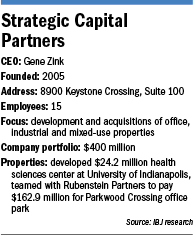 "Coming out of the last recession, we felt that there would be some acquisition opportunities on the suburban office side," Horn said. "We thought we could find the niches in the market we know to either buy properties or develop them."
That familiarity stems from their Duke connections.
Strategic Capital bought two office buildings in Cincinnati, along the downtown riverfront, from a private-equity firm that had purchased them from Duke. Strategic Capital's portfolio also includes Duke cast-offs in the northern Virginia market.
On the development side, the company is buying land and developing office space in Raleigh, which Zink described as "red hot," and is scouting opportunities in Nashville.
Locally, Strategic Capital built a $24.2 million health sciences center on the University of Indianapolis campus and Greyhound Village, a four-story apartment project completed in August.
But Zink is just as proud of his philanthropic efforts, including Strategic Capital's involvement in the redevelopment of the impoverished Meadows area east of Keystone Avenue along East 38th Street. Billionaire investor Warren Buffet helped finance the $27 million East Village at Avondale apartment project.
Zink is a director of the Avondale Meadows Academy charter school and is involved in bringing a Save-A-Lot grocery to the food desert. It should open in December.
"We had a chance to take a look at the worst neighborhood in the city, at the time," Zink recalled, "and say, 'What can we do to make it better?'"
Smith at JPMorgan attributes much of the neighborhood's revitalization to Zink's efforts.
"He has been just unbelievable, unrelenting, and almost single-handedly been responsible for what's gone on there," he said.
Like most developers, Strategic Capital has weathered disappointments, most recently when Indianapolis Public Schools passed over its proposal to redevelop the 11-acre Coca-Cola bottling plant site at Massachusetts and College avenues.
IPS this spring instead chose a proposal from Wisconsin-based Hendricks Commercial Properties, which aims to spend $260 million to build 400 residential units, 200,000 square feet of retail, and another 200,000 square feet of office space, in addition to a cinema and a 120-room West Elm hotel.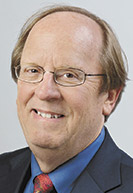 Schmidt
"It was certainly a team effort that we thought was a really good proposal," said Wayne Schmidt, CEO of architectural firm Schmidt Associates, which partnered with Strategic Capital on its bid. "It just wasn't quite good enough."
Zink said the team was "very excited" about the opportunity, recalling that five years ago, his son, Will Zink, Strategic Capital's vice president of construction and development, had the foresight to proclaim the site "the best piece of property in the city."
Now, the 1.2-million-square-foot Parkwood Crossing is one of Strategic Capital's top priorities.
Both Zink and Horn are intimately familiar with the office complex—Zink helped acquire the land and Horn was involved in its expansion.
Strategic Capital and Rubenstein plan to further invest $20 million in Parkwood by constructing a stand-alone amenity center providing facilities for dining, fitness, conferences and workplace collaboration. The owners also plan to upgrade building systems along with aesthetic improvements, such as updating lobbies and adding landscaping.
The typically price-conscious Strategic Capital bested others to make an offer Duke accepted, much to the delight of Zink.
"We come in second or lower more than we come in first," he said.•
Please enable JavaScript to view this content.