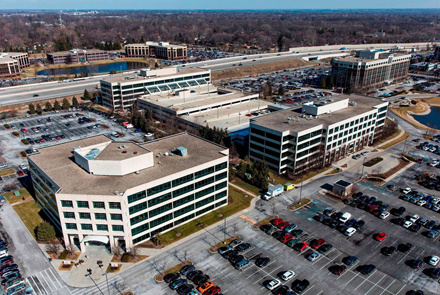 One of the Indianapolis area's largest and highest-profile office parks has sold for $162.9 million—an eye-popping sum for the central Indiana market.
Philadelphia-based Rubenstein Partners and Strategic Capital Partners of Indianapolis announced Wednesday morning that they have acquired Parkwood Crossing from local real estate investment trust Duke Realty Corp.
The 1.2-million-square-foot complex at Interstate 465 and North Meridian Street was Duke's largest Indianapolis-area office park. Consisting of eight buildings developed by Duke from 1989 to 2005, the park is 95 percent occupied, according to IBJ statistics.
IBJ reported in February that Duke was putting Parkwood Crossing, along with the Hamilton Crossing and Interactive Intelligence office parks in central Indiana, on the market as it continues to divest its suburban office properties.
Only a handful of office properties in the Indianapolis area have traded near that price point in the last decade, much less surpassed it. One exception: Commonwealth REIT in 2012 paid $201 million for both the 905,000-square-foot Chase Tower and the connected 153,000-square-foot Monument Circle office building.
Duke's long-term strategy calls for a heavier focus on industrial and medical office space to make the publicly traded company more appealing to institutional investors.
Parkwood Crossing gives Rubenstein and Strategic Capital a leading office park in one of the area's best-performing submarkets. The North Meridian corridor boasts occupancy of nearly 92 percent and Class A asking rents of $22.36 per square foot, according to second-quarter office statistics from Colliers International.
"Parkwood, over the years, has been successful because it's a great location, the buildings are well designed and maintained, and it's had good property management," Strategic Capital President Richard Horn told IBJ.
Horn and Strategic Capital CEO Gene Zink are well familiar with Parkwood Crossing. Horn served as president of Duke Realty until 2002, and Zink was a co-founder of the developer.
Both were at the company when Duke developed Parkwood Crossing—Zink helped acquire the land, and Horn was involved in the office park's expansion.
Rubenstein and Strategic Capital plan to further invest in Parkwood Crossing by constructing a stand-alone amenity center providing facilities for dining, fitness, conferences and workplace collaboration.  
The roughly 10,000-square-foot center will be centrally located within the development and will connect directly to a new campus trail, which will provide pedestrian access throughout the property to improve flow between office buildings.  
The owners also plan to upgrade building systems along with aesthetic improvements, such as updating lobbies and adding landscaping.
Parkwood Crossing tenants include Katz Sapper & Miller LLP, Pearson Education and Teradata Operations.
Founded in 2005, Rubenstein Partners has invested in more than 10 million square feet of office property in the eastern United States.
Rubenstein Partners' purchase of Parkwood Crossing is its second with Strategic Capital. The two firms co-own two office towers in downtown Cincinnati.
In Indianapolis, Rubenstein had chased other office properties but was unsuccessful in closing the deals, said Brandon Huffman, a director of the company.
"This has always been the best in class asset in the suburbs in terms of location, quality and tenant roster," Huffman said of Parkwood Crossing. "It's always been on our radar, but these things don't trade very often. Duke has owned it for a long time."
Also founded in 2005, Strategic Capital has a portfolio consisting of 2.5 million square feet of office, industrial and mixed-use space valued at $375 million. The company owns properties in Cincinnati; Raleigh-Durham, North Carolina; and in northern Virginia.
Strategic Capital's purchase of Parkwood Crossing represents the company's first office acquisition in Indianapolis.
The local office of JLL brokered the transaction and will serve as leasing agent for the property.
 
Please enable JavaScript to view this content.