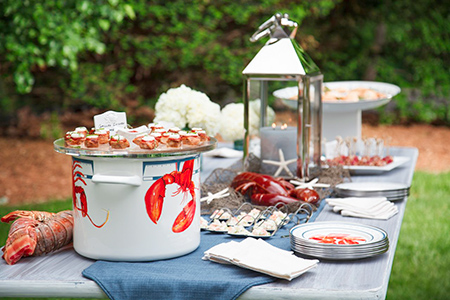 Debbie Locklear has worked in the hospitality industry more than 40 years and been in the corporate-meeting and convention-planning business more than 30. Her firm, Meeting Services Unlimited, works with dozens of clients nationwide and has helped put on shows for some of the country's biggest corporations and associations, including Indianapolis-based Custom Electronic Design Installation Association.
In late 2014, Locklear launched Your Perfect Party, a company focused on smaller, high-end private events.
When and how did you get started in the meeting and planning business?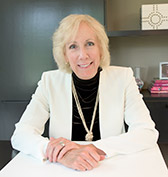 Debbie Locklear (IBJ photo/Eric Learned)
1973. I was working in the hotel industry. I was working for the Sheraton on the east side; for another east-side hotel called the East Side Motor Inn; and the Atkinson Hotel, which is now the Omni. I think I closed them all down as I left.
Initially, were you in customer service or sales?
I started at the front desk as a clerk, to reservations, to catering, then to convention services to director of sales.
When did you launch your own company?
1983. I had left the Atkinson Hotel. I knew there were [meeting planning] companies in other cities, but nothing here in Indianapolis. I had a lot of naysayers who said it wasn't going to work. There was a lot of doubt in this market that someone or a company would pay for a meeting planner. But I was persistent and within four years saw my first competitor in this market.
What were the biggest challenges to launching your company?
Identifying prospects. I spent a lot of time marketing and searching for clients. I had someone say, "Deb, if you just throw enough stuff at the wall, some of it's going to stick." I was just tenacious in pursuing leads. And I knew how to negotiate with hotels and meeting-space locations, so I was really able to advocate for my clients. That was key to growing my company.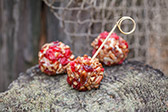 Appetizers (Photo courtesy of Your Perfect Party)
What have been some of the biggest changes you've seen in the meeting planning industry?
By far, technology. When I started, there was a fax machine and a word processor. Suddenly, we had desktop computers, email and the internet and it was so much easier to communicate, one-on-one and to the masses.
How has technology changed the corporate meeting and convention itself?
We can now communicate live through Twitter feeds during conventions. The interaction between attendees gives it more of a personal touch. We also see much more technology utilized in the presentation to the attendees—whether it's someone Skyping in to talk to the audience or accessing a site that the speaker is explaining to the audience.
There was a time when incorporating a simple broadcast took so much technology to make that happen, and now that's just so simple, and people are incorporating the internet into their programs regularly. The technology today has made interaction possible in a way that never was before. There's so much more we can do to teach and entertain our attendees.
What are some of the most popular industry trends right now?
Social-media involvement and mobile apps. The mobile-apps technology is growing in various ways. We can access speaker bios and handouts. We can tweet live over the apps. We can get surveys and audience participation all through the apps. The mobile apps are only going to get better.
What's the strangest thing a client has ever asked for in planning or conducting a meeting or convention?
The strangest thing was a medical meeting I did several years ago where they were just beginning to introduce laparoscopic surgery. They wanted to have a ballroom set up as a hospital operating room, with different hospital beds and different stations. We brought in lab animals that they arranged for, and [they] performed laparoscopic surgery on them.
It was strange and kind of disturbing to see how these doctors were all thumbs with knowing how to use the equipment. That was the most unique thing—and disturbing. They were repairing hernias. These lab animals—they were pigs—all had hernias. We had to put sheets down and plastic, because it was a carpeted ballroom. It was very weird.
Plates that are part of the New York-themed package. (Photo courtesy of Your Perfect Party)
What's the one thing most clients want that is the most difficult to deliver?
Increased attendance. It's the most difficult to deliver because a lot of clients put the need out there but don't want to do anything on their end to make it happen.
What's the most commonly requested meal at a banquet?
Chicken! Hands down. It's probably the safest. You have people who don't eat beef, can't eat seafood and won't eat pork.
What are some of the trends in food and beverage service?
People are going to more of the small-plate appetizers that are more artsy and creative. We'll see more decorative plates and more impressive design.
Drinks and bamboo-stemmed glasses from the Maui collection. (Photo courtesy of Your Perfect Party)
What's the most popular dessert?
Cookies. If you have cookies, they're always going to be eaten. Every one of them.
What are the most important factors in determining where to have a meeting?
Absolutely, geographical location. But only if the [financial] package presented is good.
What's the one factor that would get a city scratched off your list to host an event?
Lack of meeting and hotel space to accommodate the group.
What are some of the biggest challenges facing the event-planning industry right now?
The variety of options people have to gain information is probably the largest threat we have in our industry. There are so many ways people can be educated … whereas in the past, conventions were the main source of continuing education. Now, there are so many varieties of how that [training] can be obtained.
How do you deal with that?
We try to offer a full experience that includes not only the educational experience but networking and the actual convention experience—elements you can't get on the internet.
What are the biggest do's and don'ts in holding a meeting?
The biggest do would be to include and listen to the people that are going to be attending and dive deep into what is important to them. A little research goes a long way in making sure that decisions made are the right decisions. Getting attendees involved creates buy-in and gets insight into what's important to them and how they want to experience a convention.
The biggest don't is in the contract negotiation with a facility. Make sure you don't overlook the clauses in the contract that put the organization at risk. There are people out there that don't have an understanding of the ramifications of some of these clauses [for minimum hotel room and food and beverage charges] that exist in hotel contracts and that can cause them financial binds that can be detrimental to the entire organization [if attendance falls short of expectations].
CORRECTION: This story has been amended to reflect the correct name of Debbie's Locklear's business, Your Perfect Party.
Please enable JavaScript to view this content.