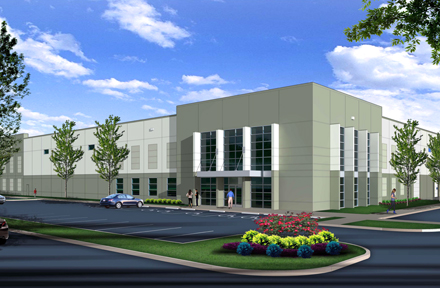 Construction is set to begin on three big distribution centers in Plainfield totaling 1.8 million square feet—further illustrating the strength of the Indianapolis-area's thriving industrial sector.
Even more impressive is that the developers of the facilities have enough confidence in the market that they are building them on a speculative basis with no signed leases yet.
"I think it's indicative of how strong our industrial market has become," said Jason Speckman, an industrial broker at the local Colliers International office. "There's a good chance we're going to see historically high absorption numbers this year."
Through August, about 7 million square feet of new industrial space had become occupied—aka "absorbed," in industry parlance—more than twice the amount for all of last year, Speckman said.
In Plainfield, central Indiana's epicenter of industrial activity, developers Ambrose Property Group, Becknell Industrial and Browning Investments are preparing to break ground on their projects.
Ambrose and Becknell received 10-year tax abatements Thursday from the Plainfield Town Council to offset construction costs. Browning received a similar abatement in 2014.
At 892,000 square feet, the distribution center to be built by Ambrose would be the biggest of the three. Browning's project measures nearly 597,100 square feet and Becknell's 336,000 square feet.
Ambrose acquired 85 acres near the Indianapolis International Airport to build Plainfield Logistics Center, a roughly $90 million development that will include two buildings of similar size when finished.
The site is located near the southwest corner of Ronald Reagan Parkway and East County Road 200 South, within a few miles of the airport, the Fed Ex Express hub, State Road 40 and Interstate 70. Ambrose expects to be construction by the end of the year.
Browning also will be building on Ronald Reagan Parkway, at the southwest corner of it and Stout Heritage Parkway. The site is significant because it's the last remaining vacant parcel in Airtech Park, the Indianapolis-area's fourth-largest industrial park.
Browning began building Airtech in 1998 in a joint venture with San Francisco-based Prologis. With 5.3 million square feet of rentable space, it's fully leased.
"We feel good about [the new building] from a speculative basis," said Mark Susemichel, Browning's senior vice president of development. "And the market's had a significant run. There's been a tremendous amount of absorption."
Susemichel declined to provide a cost for the project, saying building features could change once a tenant is signed.
Driving much of the demand for new industrial space in the Indianapolis area are e-commerce companies hungry for additional warehouses to quicken delivery times to consumers.
Browning plans to attract one of those companies with its new building by constructing it with 36-foot-high ceilings, LED lighting and more parking space than typical warehouses, due to the larger number of employees needed to fulfill orders, Susemichel said.
The building should be finished by April.
Becknell, meanwhile, plans to begin construction next month on its $16 million building and complete it in the spring, said Pete Anderson, an executive vice president at the Indianapolis office of the Chicago-based company.
It's Becknell's first project in Plainfield—to be built near the southeast quadrant of Stafford Road and State Road 267—since entering the central Indiana market in 2013. At that time, it bought a 250,000-square-foot industrial building in the Axcess70 Business Park north of the Interstate 70 and Mount Comfort Road interchange in Hancock County.
This will be Becknell's sixth speculative building it has constructed in the Indianapolis area. Overall, the company has built 2 million square feet of industrial space, Anderson said.
"We continue to be bullish on the opportunities, whether it's in build-to-suits or speculative construction," he said. "We don't really see that tapering off in the future."
The three projects from Ambrose, Becknell and Browning will help Plainfield achieve the milestone of having more than 40 million square feet of industrial space built within its borders.
With the success, however, comes apprehension about the availability of land for future projects, town spokesman Tony Perona said.
 
"There is some space left," he said, "but clearly that's one thing we're concerned about."
Please enable JavaScript to view this content.