It is 4 o'clock on a sweltering Wednesday, and Dave Norris is loading a 1976 Good Humor truck with frosty treats from the heavy-duty freezers that line his Lantern Road garage—all the better to serve the hot and hungry customers he'll encounter on his daily ride through the cul-de-sacs of Fishers.

With the popsicles and ice cream stacked inside the un-air-conditioned U Want Ice Cream truck's six coolers, Norris hits the road. As he approaches the first neighborhood on his route, he cranks the exterior speakers, flooding the streets with the soundtrack of summer to attract kids, adults and pets alike.

"Hey, how are ya?" he asks a familiar face passing by on the sidewalk.

Norris wheels around the streets, pulling up in front of driveways when he gets a signal. Before long, wet children dressed in swimwear flag him down, shouting, "Wait! Wait! Wait for us!"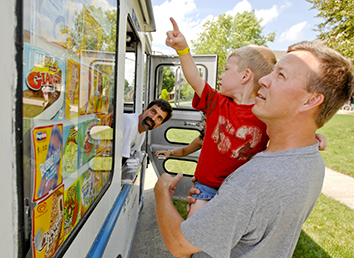 Matthew Kolbus, 5, and his father Mark, look over the ice cream menu as Dave Norris watches.
Mark Kolbus and his 5-year-old son, Matthew, run to greet Norris. Matthew gets to choose his favorite treat from the photos on the side of the truck: everything from the quintessential red, white and blue rocket pop to a Sponge-Bob-shaped bar. Prices range from 50 cents to $3.

"My kid waits for him all the time," said Kolbus, whose son stops his cartoons and rushes out once he hears the dim music getting louder. "This is a good, timely interruption from the daily norm."

It's an interruption from the norm for Norris, too. The independent certified public accountant started the family-owned operation in 2007, aiming to make a personal connection with people—along with a little extra money.

He bought the old-school truck on eBay for $12,000 and spent a few thousand more getting it road-ready. He spends $300 to $400 each week on his inventory, and racks up as much as $10,000 over the course of the summer, managing a profit margin of about 33 percent.

If the weather permits, the 48-year-old makes his run six days a week from May to September or October. He usually hops on his truck at 4 p.m for a two-hour cruise through Fishers. He takes a break around 6, but is back at it from 7 to 9.

"People don't necessarily like us coming as they are just about to sit down for dinner," Norris said. "It is very difficult to tell the child that they should keep [their ice cream] in the freezer and eat later. The child thinks if he is getting it from the ice cream man, they should eat it right now."

But not all his customers are children. On this day, after making small talk with residents of The Parks, Norris drives by some homes getting repaired after a June hailstorm.

Laborer Ben Swinehalt, heavy tool belt still circling his waist, takes a break to decide which flavored popsicle will best beat the heat. After much thought, Swinehalt settles on a Sponge Bob popsicle, Norris' best-selling product.

For Norris, sales are important but not the only aim. He also tries to strike a personal chord with everyone he meets. Often, his children—Matthew, 21; Daniel, 18; and Sarah, 14—accompany him to share in the fun (and keep him on schedule). He admits there are times when he gets carried away with the conversation and his daughter has to remind him he has been talking too long and it is time to move on.

"She is the one who knows we have to make sales," he said.

Still, he's unrepentant.

"We connect with these people and ask them about how their houses are doing through the storm," he said. "We are all humans looking for a human touch."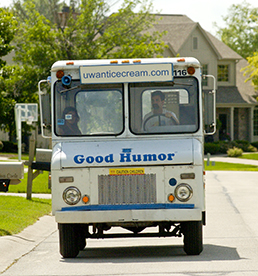 Dave Norris drives his ice cream truck through a Fishers neighborhood.
Norris extends a warm welcome to pets as well. He keeps a supply of plastic-wrapped dog treats in his truck to impress canines who aren't crazy about unknown trucks showing up outside their house.

Apart from the neighborhoods of Fishers, Norris has been making his presence felt at local events, like employee appreciation celebrations and the Flavors of Fishers, scheduled this year for Aug. 1.

Longtime customers get a special greeting and a sometimes chance to test products he's thinking about adding to his collection.

"What is for dinner?" Norris asks Kristina and Tim Riley, regulars since he started his business. With steak on the menu, Kristina lets her four kids each choose a treat that costs less than $1. Norris gives them two samples of treats he's thinking about adding, chats with the family for 10 minutes or so, and takes off as the clock strikes 6.

But as the economic downturn deepens, Norris is feeling the pinch of his clients' cutbacks. On the ride back home, he recalls a recent incident.

"The other day, I heard a mother lecture her daughter, 'We could buy these products in the grocery store.' And I couldn't argue with her," he said.

Norris said his heart melts when the kids ask him to wait while they run inside to get money but return empty-handed. Still, he's hanging tough.

"Many of our regular customers have stayed regular, even though some have cut back on what they were buying," he said.•