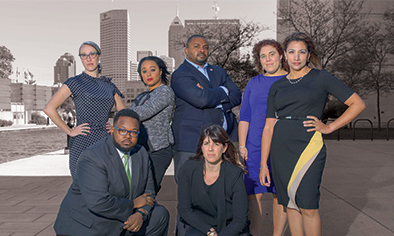 Leaders at the Central Indiana Community Foundation admit the organization lacks diversity on its board of directors: Only seven of its 21 members are minorities.
"That's 33 percent. That's not ideal," said Brian Payne, president of CICF and Indianapolis Foundation.
It's an issue that's been on Payne's mind for years, especially because he knows his organization isn't the only one struggling.
But there are obstacles that keep minorities and young professionals from gaining membership to big-time boards. Perhaps the biggest is financial. Many organizations, including CICF, expect board members to donate thousands of dollars every year.

Now, a pilot program launched by the Indianapolis Foundation, which is managed by CICF, will remove that burden. It's placing 10 individuals on 10 local not-for-profit boards for three-year terms—and giving the new board members the money they need to make the necessary contributions.
"If you're on a major board, you're expected to write a check — either you or your company — for $5,000. No matter how smart you are, if you're under 30, you're probably unable to do that," Payne said. "Maybe we could be that company check for all these young, dynamic, diverse leaders."
The initiative, which was announced last month at the Indianapolis Foundation's centennial gala, provides each fellow with $10,000 annually to contribute to the organization they're serving.
"It is one thing to put diverse young professionals on a board. It is another thing to back them up with the resources so that they have to be taken seriously," said Rebecca King, director of the Stanley K. Lacy Executive Leadership Series for Leadership Indianapolis and one of 10 fellows.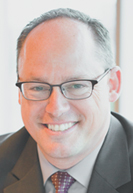 Kramer
Organizations seem to want the help.
Nearly half of the 100 participating organizations at a recent "Get on Board" event coordinated by Leadership Indianapolis listed board diversity as a "top need." That included well-known entities like the Boys & Girls Club of Indianapolis and The Salvation Army as well as smaller ones such as Auntie Mame's Child Development Center and Fletcher Place Community Center.
"We tend to have organizations tell us: 'We don't have any young people,' or 'We don't have any people of color,'" said Adrianne Slash, project and event manager for Leadership Indianapolis and one of the fellows.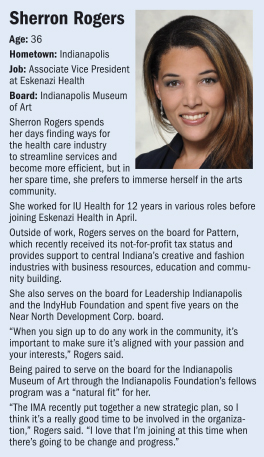 Still, many boards instinctively recruit potential leaders from the inner-networks of the sitting members. That's despite the fact that there appear to be plenty of individuals who are interested in joining boards. About 700 prospective board members attended "Get on Board" last year and 635 had pre-registered for the event this year.
"You have a lot of people that want to step up into leadership roles and you have a lot of organizations that want more diversity," King said. "One of the things that's so cool about [the fellowship] is it is connecting those dots and building that bridge."
The fellows were selected by Payne and Michael Kaufmann, who is known for his involvement with art and civic organizations and works as the director of special projects and civic investment for Health and Hospital Corp. of Marion County.
Those chosen have experience serving on smaller boards and committees and are already heavily engaged in the community.
Most of the not-for-profits participating already work with CICF in some capacity and regularly receive funding from the foundation.
Ongoing struggle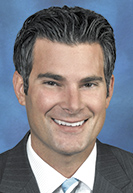 Gahl
CICF is putting one fellow on its own board to help address the problem.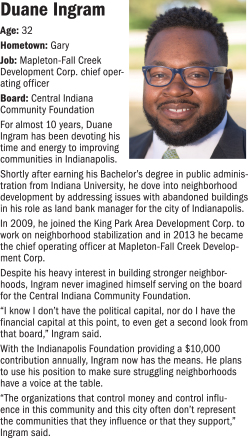 Payne said years ago the CICF board established minimum standards in certain categories, like race and occupation, to ensure at least some diversity. But the financial expectation is still a barrier, especially for young professionals.
Board members are expected to either open a fund for CICF to manage, which typically requires an initial investment of $200,000, or donate $5,000-$10,000 annually. Exceptions can be made though, with some members only contributing $1,000 per year.
"Five years ago, we didn't have anyone under 50 years of age," Payne said noting the board now has five people younger than 50. "We've been working hard to have that age diversity."
Goodwill Industries of Central Indiana CEO Kent Kramer, who is in his second year in the executive position, has made diversifying the organization's three boards one of his priorities.
"We're being diligent about it," Kramer said about the goal of adding a mix of gender, race and age groups to the boards. "In some avenues, we're doing really well. In other avenues, we're really working hard."
He's developing a pipeline of future board members through ongoing recruitment efforts and establishing a young professionals board. Lily Smith, who will serve on the 24-member foundation board as a fellow, had been participating in the young professionals group.
"Any nonprofit's desire is to look at the population you serve and the community you serve in and do your best to have your board replicate that," Kramer said. "I think it needs to be a focus for boards."
Kramer said Goodwill doesn't have a minimum donation requirement, butgiving "is something we highly encourage," and usually all board members donate annually.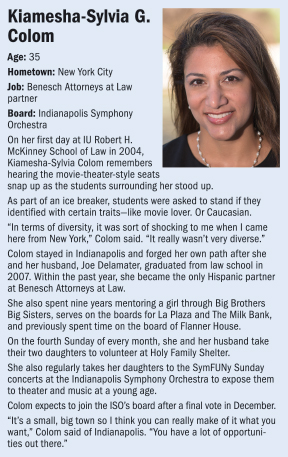 Second Helpings Inc., which collects and redistributes perishable and overstocked food and trains unemployed and underemployed adults for culinary careers, considers its 19-member board only 21 percent diverse.
CEO Jennifer Vigran said part of the lack of diversity comes from existing board members who only look for new members within theirown networks.
The organization is participating in the fellows program to add a board member who wouldn't have been on its radar otherwise.
The organization expects its board members to give "at least one meaningful gift each year" but does not have a minimum gift requirement.
Chris Gahl, vice president of marketing and communication for Visit Indy, said the tourism organization is also regularly trying to improve diversity on its 66-member advisory board.
Slash, with Leadership Indy, will serve on Visit Indy's board next year as part of the program, pending final board approval.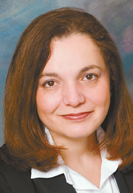 Vigran
"She's someone who is young, and also from an ethnicity standpoint, it helps us have an even more diverse board," Gahl said. But "no matter her ethnicity, Adrianne is someone who is extremely talented."
Gahl said only 12 percent of the advisory board represents a minority group. Only 15 members are female.
"We as a community need to be more mindful as we look at governance of nonprofits and for-profits: Is it an accurate representation of the city as a whole?" Gahl said.
"It's just having conversations and not being afraid to talk about the fact that we struggle with diversity. We want to be more inclusive."
Please enable JavaScript to view this content.