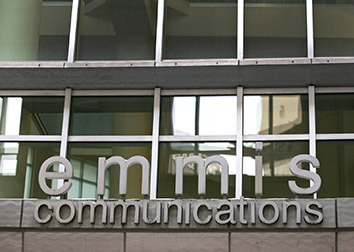 A former employee of Indianapolis-based Emmis Communications Corp. has filed a sexual harassment lawsuit against the media company, alleging it did not do enough to respond to her complaints that she was harassed and criticized by two producers at one of its sports-talk radio stations.
Kristine Esser Slentz, who worked as a digital content manager at Indianapolis station WFNI-AM 1070 "The Fan," filed the suit last week in federal court in Indianapolis.
In her complaint, Slentz says she left her job at WFNI in December because she was subjected to "frequent harassment and criticism"—with most of it coming from producers Tony Donohue and Kyle Knezevich. She said she was hired by Emmis in October 2014 and promoted about six months later.
"Slentz reported the discriminatory conduct to [Emmis's] management on multiple occasions, but [Emmis] failed to take adequate steps to respond to her complaints," the lawsuit says.
Slentz alleges that Donohue complained about her work performance via text messages he sent her after work hours. The frequency of these texts increased in March 2015, when Donohue told her he had found an article about bisexuality that Slentz had published on the Huffington Post website.
"Donohue talked about the article with almost everyone else who worked on their floor, and made many jokes and comments about it, many of which were derogatory," the complaint alleges.
Slentz reported Donohue's conduct to her supervisor, who shared the complaint with a human resources representative, according to the suit. Donohue was given a written reprimand and told to stop "discussing Slentz's sexual orientation and to stop complaining about [her] work performance and texting her at night," the suit says.
After Slentz's supervisor was laid off, Donohue again started to complain about Slentz's performance, she said. These complaints increased in frequency during June and July 2015, and Donohue shared these criticisms with most of their coworkers, the suit alleges. The criticisms included calling Slentz "stupid" and a "bitch," she alleges.
Slentz again complained to human resources.
"Donohue admitted the allegations and agreed to stop, but he was not written up," the suit alleges.
Slentz claims Knezevich started criticizing her work performance after she rejected sexual advances he made to her at the Indianapolis 500 in May 2015.
"After Slentz declined his advances, Knezevich joined Donohue in complaining about her performance, and escalated the tone and frequency of his complaints with Donohue," the lawsuit alleges.
Slentz complained to her supervisor about Knezevich's behavior.
In October 2015, Slentz collaborated with her supervisor and Donohue on an article for the radio station's website about the Indianapolis Colts. Donohue promoted the article on social media, but later, he and Knezevich started to complain about the article.
Slentz quit her job because of the "frequent harassment and criticism," the suit says. Her last day was Dec. 30.
The suit does not specify a dollar amount Slentz is seeking, but it asks that she be awarded "compensatory and punitive damages" as well as interest, attorney's fees and court costs.
Emmis has not yet filed its legal response to Slentz' complaint.
"Emmis denies the allegations contained in the lawsuit," a company spokeswoman said in an email to IBJ. "Emmis firmly believes that the law is on its side and will aggressively defend against these allegations."
Donohue and Knezevich did not respond to phone and other messages left for them Tuesday morning.
Editor's note: Tony Donohue's last name was spelled incorrectedly in an earlier version of this story due to a misspelling in the lawsuit. It has since been corrected.
Please enable JavaScript to view this content.