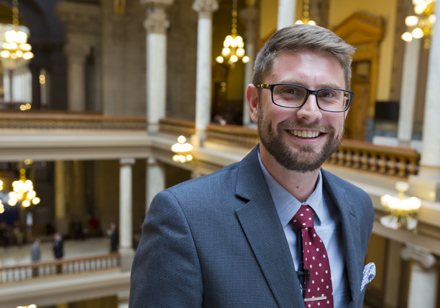 Marion County economic development group Develop Indy has tapped a new leader who most recently helped Speedway attract commercial reinvestment that some credit with reinvigorating its downtown.
Ian Nicolini, 33, will serve as vice president of Develop Indy, the local economic development organization for the county. It's housed under the Indy Chamber umbrella but works with the Indianapolis mayor's office to fulfill Joe Hogsett's economic development agenda. Develop Indy is a private not-for-profit, but it has traditionally been funded through a combination of revenue streams including Bond Bank fees and private contributions.
Nicolini will be charged with attracting companies and jobs to Indianapolis, retaining current ones and helping Indianapolis' workforce align with current job openings. He starts on Nov. 15.
Most recently, Nicolini served for more than two years as town manager of Speedway, helping it attract businesses to the town's Main Street and prepare for hosting the 100th running of the Indianapolis 500.
Speedway Town Council President David Lindsey said town officials are "extremely proud of what we've accomplished with Ian as our town manager and we wish him all the best."
Nicolini earned his bachelor's degree and master's degree in public affairs from Indiana University. He is from South Bend, and currently lives with his wife and daughter in Speedway.
IBJ spoke with Nicolini about his background and goals. Here's an edited version of the interview.
IBJ: What is your economic development philosophy?
Nicolini: Personally, I've always believed that economic development is the tie that binds all the other services that make a city a great place to live. Through that holiistic approach, I think you can successfully attract and retain talent, invest in your business community, from small startups to major headquarters.
We're going to be encouraging the tech boom that's taking place in Indianapolis now and creating an environment for people to innovate and create. As those successes mount up, it's a critical tool for community development. We want to be a city that is going to compete for talent with other metros around the country.
For a long time, economic development organizations sort of acted in their own lanes. Tying workforce and education into an economic development strategy is relatively new to the field. Engaging our anchor institutions is going to be critical, as is the work the Indy Chamber is doing with small business development.
IBJ: What do you believe are Indianapolis' biggest opportunities for job creation?
Nicolini: I think our biggest opportunity is in tech. There's cities that would love to be competitive for those tech jobs. It's about trying to leverage that, and have the ability to backfill some of those open positions. It is about trying to import talent and attract people to move here, but making sure the folks who live in the community have access to those opportunities as well. There are a lot of opportunities for folks with a certification and a high school diploma to enter the tech sector.  
An entry-level job at age 19 or 20 can be a huge opportunity. I think what that means for neighborhoods and the community at large is critical. It's as much about entrepreneurialism as it is about making sure we do everything we can to remove the skills gap.
IBJ: Explain what we can do to mitigate Indianapolis' workforce challenge.
Nicolini: The skills gap isn't something unique to Indianapolis. Quality of life, low cost of living, low unemployment rates, being a competitive city from a supply-chain standpoint—those are the sorts of things that help to overcome a talent gap, along with having high-quality neighborhoods, strong schools and workforce opportunities, and things people can do to be entertained. We have great partners to help us do that. There are so many people that are engaged in seeing Indianapolis become great.
IBJ: What were your biggest accomplishments in Speedway and how will that translate to the work you do for Indianapolis?
Nicolini: When I was hired, I was tasked with strengthening neighborhoods and encouraging economic development on Main Street, as well as forging strong relationships with major companies like Allison Transmission, Praxair and the Indianapolis Motor Speedway, and improving the community's financial position.
There were things as boring as trash collection and making sure we have sewer lines that aren't more than 100 years old to actual business recruitment and retention.
I'm particularly proud of Project 100 at the Indianapolis Motor Speedway—the roundabout and Legends Plaza are game-changer improvements. The 100th running of the Indy 500 was such a unique and special event. Having those improvements took it to a whole other level.
And the work we've done on Main Street. Speedway was a place where we had rolled up the sidewalks at night. Now we have young families putting in competitive bids for houses all over town. We're trying to make it a destination for young families.
Please enable JavaScript to view this content.