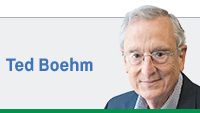 Gerrymandering intentionally creates uncompetitive districts in which the winner of the dominant party's primary is virtually guaranteed election in November. The result is an unrepresentative and polarized Legislature, voter apathy and disenfranchisement of independents. Nonetheless, both major parties, once in control of a chamber of the Indiana Legislature, have cheerfully gerrymandered Indiana legislative maps for decades.
Unless the courts intervene, redistricting reform in Indiana requires a statute or a constitutional amendment, both of which require approval of both chambers of the General Assembly, which has lacked the will to add Indiana to the growing list of states that have achieved redistricting reform.
In 2014 a redistricting reform bill, House Bill 1032, passed the Indiana House with 77 votes, but died in the Senate without a hearing. A second small step was taken in 2015 when a Redistricting Study Commission was created by the Indiana General Assembly. The commission—of which I am a member—is to render its report by Dec. 1. The report is to include an analysis of alternative methods of establishing legislative districts and recommendations on the redistricting process. The study commission's report will be at best only the start of a difficult path. Genuine progress is likely only if the public weighs in on the need for reform.
House Bill 1032 is a natural candidate as a starting point for discussion of any recommendation of the study commission. The study commission should consider several points, however.
The bill created a five-member redistricting commission—four appointed by majority and minority leaders in the House and Senate and the fifth a nonpartisan selected by the four appointees. And the decisions of that redistricting commission would need unanimous approval. A larger commission seems desirable for at least two reasons. The commission should be large enough to provide greater geographic and other diversity, and its appointing authorities should be expanded beyond the legislative leadership to provide nonpartisan as well as major party partisan input. Passing a redistricting plan should require the approval of a substantial majority of the commission, but not unanimous support. Unanimity would have the undesirable effect of permitting one or two members to block any recommendation.
A Legislature representative of the populace would include ideologues and partisans leavened with a solid slice of centrists. Natural concentrations and dispersions of groups will produce that from a neutrally drawn map that minimizes crossing county, township and school corporation boundaries, and draws compact and contiguous districts without reference to political data. If the law imposes these requirements, and a bipartisan or nonpartisan commission is selected, we will get a Legislature that reflects the voters, including some districts that highly favor one party or another, and many that are competitive.
Finally, The Indiana Constitution calls for "the General Assembly" to "apportion senators and representatives among districts." Presumably to avoid a constitutional challenge, as well as to make the bill more palatable to legislators, H.B. 1032 authorized the commission to recommend districting plans, but not to adopt new districts as commissions in other states do. That seems to be the best we can do to get any reform in place for the decade of the 2020s. If a constitutional amendment is required, it should eliminate the requirement that the General Assembly do the apportionment and require neutral districting principles.•
__________
Boehm is a retired Indiana Supreme Court justice who previously held senior corporate legal positions and helped launch amateur sports initiatives in Indianapolis. Send comments on this column to ibjedit@ibj.com.
Please enable JavaScript to view this content.