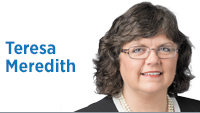 Our kids' futures are at a crossroads in Indiana, and Hoosier voters have a choice this election season on which direction the state takes. It is now more important than ever to support candidates dedicated to advancing public education and the education profession.

The state is facing a crisis: a shortage of qualified candidates for teaching positions. The shortage is playing itself out in school buildings all across the state, and there is no doubt that student learning is being affected.

In a recent survey by Indiana State University, the vast majority of school superintendents reported having a teacher shortage at their school corporation. Rather than having a full-time teacher in their classrooms, some students have a long-term substitute teacher, an untested student teacher or a teacher using emergency permits.

Our state's public schools are finding it increasingly hard to find quality educators. Top down regulations placed on teachers have stymied the profession and remain disincentives to begin a career in education. Teachers are obstructed by the policies driving both their work and the learning conditions of their students.

Teachers feel disrespected by those in office who have created policies that diminish their professional judgment and autonomy. Policies such as reduced prep time; restricting the collective voice of those whose work is closest to students; and insistence on labeling students, teachers, schools and communities based upon a narrow set of criteria have damaged the profession. Teachers also feel disrespect because of the lessening of the importance of teacher licensure; and focusing on private school voucher expansion while promoting favoritism toward corporate-run charter schools at the expense of public education.

Just as alarming, Indiana's public schools have been hampered by education reformers who seek profits and privatization.

Our public schools, where more than 90 percent of Hoosier kids attend, are systematically being replaced—under the guise of choice. The reality is increased segregation in charter schools, of which the majority are D and F schools. This is not about kids. The "reform" movement is about more experimentation at kids' expense.

This movement is also about profit. Our communities are at stake. The future of our kids is at stake. Indiana has become a petri dish for every private, market-driven reform—with no evidence of improvement.

Some policymakers have forgotten that public education is one of our most sacred institutions. Education is a right, made to shape civic leaders of the future and forward our society. Our state founders recognized this and established it in Indiana's constitution requiring a public education system wherein "tuition shall be without charge and equally open to all."

Voters this November have an opportunity to return to local decision-making for our schools and their students, as well as reinstating teaching as a respected profession.

I encourage voters to learn where candidates stand on improving conditions for not only attracting more recruits into the teaching profession, but also respecting those in classrooms right now.

Hoosier voters have a real choice this November. Voters can choose to move the state in a direction where we can begin to take steps to ensure all Hoosier kids, no matter what ZIP code they live in, receive a quality public education by a skilled and caring teacher.

The Indiana Political Action Committee for Education has prepared a voter guide outlining candidates who have committed to supporting public education, educators and our kids. Visit ipace-in.org/voterguide for more information.•

__________

Meredith is president of the Indiana State Teachers Association and has taught for more than 20 years in Indiana schools. Send comments on this column to ibjedit@ibj.com.