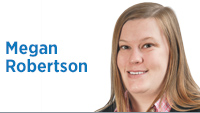 For a person who loves politics like I do, this election cycle has been more than disappointing. I'm a lifelong Republican, but each day I find it harder and harder to be excited about what is happening in the Republican Party. And I know I am not alone.
Lately, I've been doing a little exercise. Whenever I am down in the dumps about the state of political affairs, I run through a list of candidates worth being excited about supporting—individuals who can be the adult in a room of elected officials, who oftentimes act more like petulant children than leaders.
At the top of that list and the statewide ticket is Todd Young. He attended the U.S. Naval Academy, served as an officer in the Marine Corps and currently serves as a U.S. congressman. It is an impressive resume. But, for me, it goes deeper than these talking points.
In my longest stint working in government, I spent seven months working in the U.S. House of Representatives doing communications. Believe me, it was more than enough time to get a feel for how things do and, more typically, do not get done in Congress.
I was able to see firsthand how our members voted on each and every issue. Throughout this process, clear patterns emerged. There were hardliners who were unwilling to be part of any type of compromise regardless of the consequences for the country.
And then there were the members I respected—those who were willing to find compromise to make progress while sticking to their key principles. Leaders willing to ignore what the latest conservative think-tank scorecard would say about them and ready to explain the vote to their constituents.
Todd Young was that type of leader. He has a strong record of being able to work across the aisle to move the ball forward as opposed to the all-or-nothing approach that causes never-ending gridlock in Congress.
He doesn't just talk about solving problems but actually addresses them by introducing and passing legislation. Last year, one of his bills was signed into law that protects seniors on Medicare from surprise hospital bills. He currently has a bill moving through the Senate that fights poverty by funding social welfare programs that meet their goals and actually improve lives. It is a novel idea in Congress, but Todd Young is actually doing things that will have a positive impact on the American people.
As Republicans, we desperately need pragmatic leadership that aims to solve problems rather than simply score political points. The my-way-or-the-highway mentality is simply not sustainable if we want to be the "party of purpose" and persuade voters to support our candidates.
And as a country, we need people on both sides of the aisle who recognize compromise is not a dirty word but an essential part of making progress.
Todd Young will be exactly that kind of leader in the U.S. Senate.•
__________
Robertson is the executive director of Enterprise Republicans and runs her own consulting firm, Frontrunner Strategies. Send comments to ibjedit@ibj.com.
Please enable JavaScript to view this content.