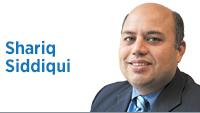 One of my greatest regrets has been my inability to serve in our nation's armed forces. Despite trying, my age and health have prevented me from being able to serve.
When I first expressed my interest in serving in the U.S. military and being deployed overseas, my family and friends expressed concern and fear due to the danger such service entails. While one doesn't take lightly the possibility of making the ultimate sacrifice while serving, I strongly believed that serving one's nation is the ultimate calling.
It wasn't until years later that I understood the fear and concern my parents expressed when I announced I wanted to enlist. From a very young age, my son has expressed an interest in serving in the U.S. military. The idea of having your child in harm's way is probably the most difficult thing I can ever contemplate. My biggest fear remains the possibility that I may outlive my children.
However, just as I was able to argue against the fear of my family and friends, my son eloquently argues against fear in favor of service in the military.
But something recently changed.
At the Democratic National Convention, Khizr and Ghazala Khan, Gold Star parents, spoke against the Republican presidential candidate, Donald Trump.
Donald Trump's reaction to these grieving parents, whose son gave the ultimate sacrifice, was insults and attacks. Trump's attacks against a Gold Star are unprecedented. These families have always been and should continue to be afforded the very highest respect.
Equally unprecedented was the silence among GOP leaders. Some reaffirmed their respect for Gold Star families, some sought to argue how much Trump respected members of the military and their families, and some simply refused to comment.
All failed to condemn Donald Trump. All failed to recognize that a presidential candidate who was too thin-skinned to show patience and compassion to the grieving family of a fallen American war hero was not a man who could be trusted with the power to send the men and women of our military into harm's way.
Those who seek to convince my son to abandon his hope of serving in the military have a new argument. As a Muslim-American, his service and sacrifice means less because of his faith. They argue that Trump would never have been able to attack the Khans had they not been Muslim. The message my son receives is simple—as a Muslim American his sacrifice is of cheaper value.
For the first time since my son has expressed an interest in service, there are doubts. He is surprised by the silence by political leaders. Even in Indiana, no GOP politician has condemned Donald Trump for his unprecedented attacks against a grieving Gold Star family.
As much as I seek to keep my son safe from harm, it is my hope that he will look toward the Tuskegee airman, the Japanese-American and Native American soldiers who sought to serve their nation even though their nation afforded them no dignity.
It is my hope that my son is inspired by these great American heroes rather than drowning in appropriate contempt for the GOP politicians who value electoral partisan victory over the core values of their party.
Indiana GOP leaders should be ashamed for their silence when the leader of their party attacks grieving Gold Star families just because of their faith. I know I am ashamed of them.•
__________
Siddiqui is an attorney, has a doctorate from the Lilly Family School of Philanthropy at IU and leads the Association for Research on Nonprofit Organizations and Voluntary Action. Send comments on this column to [email protected]
Please enable JavaScript to view this content.