Call it the Muni Cup of golf management.
Mayor Greg Ballard's administration is requesting proposals to manage all but one of Indianapolis' 13 municipal courses. The move could displace at least some of the current operators while giving the cash-strapped city a financial boost.
To qualify, managers must agree to pay for capital improvements, which in recent years have been the city's responsibility. In addition, the administration is encouraging those seeking to run courses that don't need major upgrades to make upfront cash payments.
The potential shakeup comes at a tough time for the golf business, which suffers from a glut of private courses and a shortage of players.
But for potential course managers, the purse is enticing. The Indianapolis courses collectively have $5.3 million in annual revenue. The city will award 10-year contracts, and one company may win them all. At least one out-of-state operator says it will bid.
"It's a big opportunity for somebody," said Tom Cooprider, who has managed the Sahm course in Castleton the past 15 years.
Cooprider is one of a handful of local golf managers who've held contracts since former mayor Steve Goldsmith privatized the courses in 1993. The city has renegotiated and rebid individual contracts since then, but never offered them as one package.
"We're trying to get the best combination of much-needed capital improvements, and more money to pay for golf and the park system in general," said Michael Huber, Ballard's director of enterprise development. The deadline for bids is Aug. 14.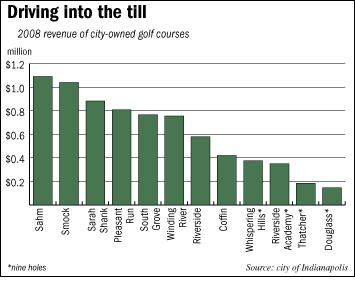 Coincidentally, 11 of the contracts expire at the end of this year, and Winding River expires at the end of 2010. Huber said the city is taking advantage of the timing to make requirements and financial terms more consistent. But he insisted the new approach doesn't mean Ballard is itching to hand the 12 courses to a single company.
"We encourage partial proposals," he said.
One city course, Eagle Creek, is excluded from bidding because the current manager, Jerry Hayslett, expanded it from 18 to 36 holes and made other upgrades in 2007. That contract expires at the end of 2014.
The bid requirements spelled out in a recently released request for proposals seem to favor those with deep pockets.
All the capital improvements combined would cost $5.7 million, according to the city's estimate. The price tag on a few courses is steep. Sahm, for instance, needs a new clubhouse, estimated to cost $1 million.
The golf courses aren't a major source of income for the city; they reaped just under $1.3 million in 2008. The money has been spent on repairs, administration and marketing, said Kristen Tusing, manager of enterprise development.
Tusing said the courses' capital improvement needs are starting to outpace the city's budget.
"We knew there was going to be a delay on a lot of them," she said.
Freeing up cash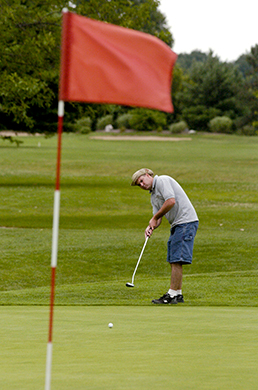 Jason Emmert putts at Sahm Golf Course, one of 12 city courses where management contracts are up for bid.
It's possible cash payments to the city will decline under the new contracts, Tusing said. The Ballard administration is hoping, with golf managers financing capital improvements, that the city can spend the cash it receives on other park needs.
Ballard is trying to squeeze out all the revenue possible because he's facing billions in infrastructure needs. The most daunting figure is $3.5 billion to overhaul the failing sewer system and eliminate septic tanks.
The mayor has a long list of road, transportation and park improvements, too. The city estimates it would take $26.5 million to bring the entire park system to "acceptable condition."
Tough times
Golf is a tough business these days. Participation has been waning since the late 1990s, and the nation is saturated with courses.
"A lot of things about our business have changed," Cooprider said. "The weekend player, their lives revolve around their kids now. The dad used to work all week and he'd play golf on Saturday and Sunday. Now he's got soccer, baseball."
Those players who find time to hit the links will find competitive greens and cart fees. Though the city-imposed ceiling on greens fees is $22, "business is such that the only time we can get that is on weekend mornings," Cooprider said.
But opportunity remains for strong managers who avoid heavy debt, said John Snell, an Indianapolis appraiser who specializes in golf courses.
He said municipal courses are attractive because their overhead is generally lower. "That puts them in a pretty good niche."
Cooprider and other incumbent managers who want to keep their courses will face competition from outsiders. HG Golf Properties, based in Danville, and a national player, Billy Casper Golf, want to see their names on the leader board.
Tony Rodems, director of marketing for HG Golf, said the firm is enthusiastic about adding Indianapolis to its portfolio of 10 courses in Illinois, Iowa and Indiana.
"We would practically double if we were to win the bid," he said.
Rich Katz, senior vice president at Billy Casper, confirmed the Virginia-based company intends to enter the mix. Casper, the fourth-largest owner-operator in the country, runs 30 municipal courses in the Midwest.
"Economies of scale weigh favorably for municipal partners of our firm," Katz said.
Snell doubts there's much fat in the management of Indy's municipal courses.
"The operators that are in place right now are very talented golf professionals," Snell said. "The next guy coming in has his work cut out for him."
The current course operators are playing up the hometown connection.
"All the golf pros operating the courses now are Indianapolis people," said Don Essig, who manages South Grove with his son Chip.
The Essigs manage two other private courses and own Hickory Stick in Greenwood. Don Essig intends to rebid on South Grove, which happens to be the same course where he played in his first tournament in 1950.
"We've had a lot of fun doing it," he said.
Essig and the other incumbent operators who are trying to stay in the game said they won't bid against one another.
Three managers have contracts for more than one course. Bob Thompson runs Riverside and Riverside Academy. Eagle Creek's Hayslett also runs Thatcher. William Krohne operates two nine-hole courses, Douglass and Whispering Hills.
One course that's likely to show up in multiple bids is Smock. The course near Southport took in more than $1 million last year and requires no capital improvements. Operator Jan Tellstrom is leaving Indianapolis to work as head pro at French Lick Resort.
On the whole, Cooprider said, the Indianapolis courses can be lucrative.
"Other than a couple of them, the capital improvements required over 10 or 15 years is not that great," he said. "Smock is a nice place, and it's pretty much a turnkey operation."
The city initially required operators to make upgrades after it privatized courses. Under Mayor Bart Peterson, the city decided to take on capital improvements in exchange for bigger payments.
Huber said the city also is looking for new ideas and improvements that aren't listed among the bid requirements.
Cooprider said he agrees with Ballard's approach.
"What they're saying is, we can do it better than they can," he said.•
Please enable JavaScript to view this content.