Along with the debut of this new column, focusing on style in Indy and beyond, comes a Broad Ripple shopping shuffle, where the reorganization of two mainstays has given way to new life along the canal.
Xquisite and Rain, two different shops with nearly interchangeable merchandise, now occupy the space at 841 E. Westfield Blvd. where Girly Chic Boutique (now at 922 E. Westfield Blvd., beside Monon Coffee Co.) used to reside. There's a limited audience for shirred-top sundresses, and I'm not sure it can support two adjacent businesses selling them—but a $30 price cap is promising in an area where Butler University girls often shop as a distraction or seek something to wear to the Sigma Chi social.
Xquisite, though much smaller, of course, isn't all that different from Forever 21, the national chain with whom shop owner Vernitta Bolden shares suppliers. But there are a few sophisticated surprises among the jersey tops with plunging necklines. I've already worn the chevron-patterned black and white knit halter I picked up for $9. Paired with a chartreuse cardigan and high-waisted black trousers, it even worked at the office. This is not Girly Chic, where you would find a unique $100 skirt you might wear only once. This is the store to find the one-time $10 clutch or $20 weekend top, but that's the idea. The décor is different as well. The earth-tone walls, hand-painted with vine and leaf whimsy, are nothing like the cracked-white-paint and rose motif of Girly Chic.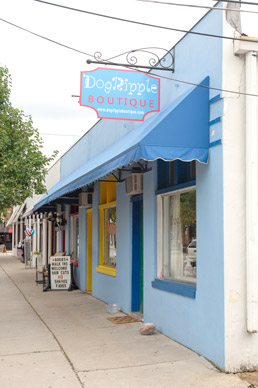 New shops Xquisite, Rain, Monarch and Dog Ripple Boutique are along Westfield Boulevard in Broad Ripple.
On the other side of Xquisite's west wall, Rain attempts an air of exclusivity by stocking only one or two of each item. At least that's how it seems. The elusive owner, Brittany, was not available for comment. One shiny, polyester kimono-style top ($24.99), one crystal-pleated halter tunic ($41.95), you get the idea. Unlike Xquisite, Rain is void of personal touches. The store fixtures are all white, and look as disposable as the clothing.
Next door, Monarch and Dog Ripple Boutique, both little more than a week old, share Periwinkle's former spot at 833 E. Westfield Blvd. (The stationery store moved to 6323 Guilford Ave.) Monarch owner Muriel Wright opened the store in part as an outlet for the fair-trade clothing imported by her son's firm, Avatar Imports, which partners with a Nepalese firm to bring in hemp halter tops and such.
Wright has a very specific customer, to be sure, but what she does, she does well. Sales of a wildly colorful tiered skirt by Sacred Threads ($28.95) help illiterate Indian women feed their families. An olive green tie-dyed skirt with a playful drawstring up the side front ($42.95) helps employ someone in Nepal.
As for Dog Ripple Boutique, I'm no expert in dog clothing and therefore have no inkling of the demand for such things, but two doggie stores in one little village seem like overkill. Three Dog Bakery, just around the corner on Broad Ripple Avenue, has what appears to the non-pet owner as everything a prissy pup could need.
Dog Ripple Boutique, sole retailer of Heather-Baron canine couture, (think doggy bikini, $20 and terrycloth doggy bathrobe, $25) could be the answer to Fido's most frivolous dreams. Punch bowls filled with dog food and water greet pups at the entry. Tiny outfits rest atop antique furniture, and a row of what looks like designer knockoff handbags—but are really dog carriers—lines the wall. Deep down I know any dog of mine would definitely own myriad accessories, so maybe there is a market for this.
Elsewhere
Haus (5910 N. College Ave.), which closed at the end of the year for remodeling, reopened just after Valentine's Day, very discreetly and with a new name, Uber. The store is still run by the delightfully creative Heidi Woodman, but the interior is just a tad more cohesive. The bird motif, complete with chandeliers made of metal twigs and branches, creates the perfect habitat for the boutique's whimsical duds.
My picks: Gray wrap vest by Free People, with bronze matte sequins down the placket and a mesh back panel covered in lacy embroidery($118). Cream short-sleeved polo by Project Vintage with exaggerated wooden buttons at the neck and chest pockets ($80).
8Fifteen (6544 Ferguson St.) has its fall merchandise already, which means spring/summer stuff is 50- percent off. (Read the April 10 post on my blog, hauteintheheartland.blogspot.com, to read about what that includes.) Owner Claire McCormick plans to double the size of the shop when it moves in October to 815 E. 65th St., across from Bobby Cooper Salon.
My picks: Tweed sheath by Ports 1961 ($695) and matching cape jacket ($575). Black shirtdress by Brochu Walker with leather wrap belt ($346). T by Alexander Wang's new floor-length T-shirt ($111).•
__________
If you'd like to share your own style ideas or know anyone who's making waves in the fashion community, contact Gabrielle at gposhadlo@ibj.com. This column appears monthly.
Please enable JavaScript to view this content.