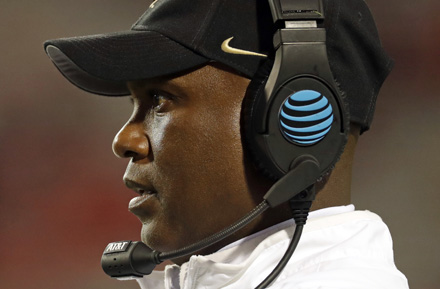 Darrell Hazell never won consecutive games at Purdue and his latest failed attempt to string together a couple victories turned out to be his last.
Purdue fired Hazell on Sunday midway through his fourth season and less than 24 hours after the Boilermakers again could not win two in a row.
Hazell was 9-33 overall with just three Big Ten victories since taking over in 2013. At .220, he finished with the worst winning percentage of any Purdue coach in 95 years.
His dismissal had seemed almost inevitable entering this season, but a 3-2 start with victories over Eastern Kentucky and Nevada, along with an overtime win over Illinois on Oct. 8, gave some hope that he would be given a full season to show progress.
Then the Boilermakers lost 49-35 to Iowa on homecoming Saturday and trailed 42-14 heading into the fourth quarter.
"The hope was that we would build on the victory at Illinois and carry it over to the Iowa game," athletic director Mike Bobinski said Sunday. "It didn't happen. We weren't showing progress, so it was time to make a change."
Bobinski, who was hired away from Georgia Tech in August to replace the retiring Morgan Burke, said he met with Hazell on Sunday morning.
"Darrell was disappointed, but as he always is, he was a gentleman," Bobinski said. "From the first time I met Darrell, I could tell he was a man of high character, but our inconsistent performance and inability to generate positive momentum — along with the disappointing results of the past three seasons — made it clear to me that we needed to make a change."
Wide receivers coach and recruiting coordinator Gerad Parker was named interim coach. Parker is in his fourth season on staff.
"We met with the team early this afternoon, and we have a bunch of men who are hurting," Parker said. "For me, there is great sadness, but it also is a great challenge. It is awkward, but I will lean on Mike Bobinski, our staff and our players. We have to get prepared to get on a plane and fly to Nebraska and play a great Nebraska team. That must be our focus."
Along with failing performance came sagging attendance at Purdue. The Boilermakers have averaged 32,078 fans at Ross-Ade Stadium, capacity 62,000, for four home games. That's down from 37,152 last season.
Purdue is in the process of building a $65 million football facility.
"College athletics can't have a better man than Darrell Hazell, and I would like to see more individuals with his virtues in Division I athletics," university president Mitch Daniels said in a statement. "But while character is mandatory every day at Purdue, positive performance also must be there. With new leadership and the rapidly evolving Football Performance Complex, I'm confident that better days are ahead."
The last Purdue coach to have a worse winning percentage than Hazell was William Henry Dietz, who went 1-6 in 1921.
Hazell, 52, was hired away from Kent State, where the former Ohio State assistant went 16-10 with a Mid-American Conference championship in 2012. He replaced Danny Hope at Purdue. Hope had gone 22-27 in four seasons as successor to Joe Tiller, the winningest coach in school history, with 87 victories.
Hazell has two years left on his original six-year contract worth $12.75 million and he will be paid the full remainder of the deal.
Bobinski said he will quickly begin a search and that Purdue's reputation for being thrifty with coaching salaries would not be an issue with this hire.
Purdue could look to another MAC coach, Western Michigan's P.J. Fleck, or possibly to a former Boilermakers assistant in Brock Spack, who is 58-33 in eight seasons at FCS Illinois State. Spack was defensive coordinator under Tiller.
Former LSU coach Les Miles, who is a former Michigan player with Big Ten roots, would bring credibility to a program that hasn't had extended success since Tiller retired after the 2008 season. The 62-year old Miles has said he would like to coach again.
The Boilermakers went to 10 bowl games, including the 2001 Rose Bowl, under Tiller, but have not finished with a winning record only once since.
Please enable JavaScript to view this content.