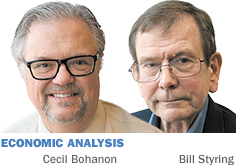 Since at least the time of the ancient Greeks, adults have been appalled by the bad habits of the younger generation. Today's corrupter of youth is the smartphone. Visit any college classroom to see that, if a professor is going over material, you can bet half the class is either openly or furtively engaged with a handheld device. These kids today! No wonder they can't pass the test; they aren't paying attention. Nagging and cajoling does little good—it simply increases their stealth.
Professor Bohanon, however, with the help of a former student, found a cure: Give the students an incentive to turn their cell phones off in class. Patrick took Bohanon's intro econ course at Ball State University a couple of semesters ago. He recently contacted Bohanon and asked if he could share an app with Bohanon's students. The app called Pocket Points is downloaded to students' phones. When students turn their phone off during class, they earn points redeemable at local restaurants, local merchants and online for free goodies. Patrick pitched the app to Bohanon's classes. More than half his students downloaded it, and phone surfing during class has declined.
The software engineers who designed the app have somehow made sure the points accumulate only when students have their cell off in the classroom, not in the dorms. The California-based company that markets and manages the app gets its revenue from participating merchants. Patrick, a campus representative, draws a small weekly stipend. At the time of this writing, more than 4,000 BSU students had signed up.
Two points are aptly illustrated. First: Markets work. The entrepreneurs who developed and promote the app are making money. The merchants who pay them are gaining foot and web traffic, ensuring future customers. The students get stuff. Bohanon gets his students' attention. Patrick gets pay and firsthand experience in marketing. It is a win-win-win-win-win. Free markets tend to do that: solve problems without nagging or coercion, making all parties better off.
Second: There is an admirable strain of entrepreneurship in the younger generation. The digital "natives" of the high-tech, internet-based world make their own entrepreneurial opportunities. College kids like Patrick are increasingly willing to take on one-shot marketing opportunities. They are also willing to drive Uber vehicles. They don't need a union contract and instinctively understand that skill development is a lifelong task. They are comfortable with a free market. The kids are going to be OK.•
__________
Bohanon is a professor of economics at Ball State University. Styring is an economist and independent researcher. Both also blog at INforefront.com. Send comments to ibjedit@ibj.com.
Please enable JavaScript to view this content.