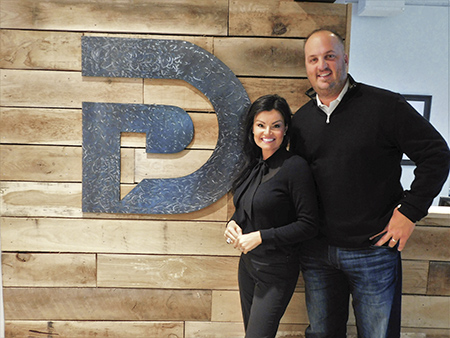 When husband and wife duo Chris and Liza Dittoe formed their public relations firm in the fall of 1999, it seemed only logical that they would specialize in technology.
"The dot.com boom was taking off," said Chris Dittoe, 43. "That's where the growth was."
In short order, the two Indiana University graduates put together an impressive client list that included Angie's List, Cha Cha, Compendium, Exact Target (now Salesforce) and Smarter HQ and MS Cos., the latter two of which were on the 2016 Inc. 5000 list of America's fastest-growing companies.
But in 2008, as Dittoe Public Relations' annual growth slowed to 5 percent to 10 percent, the company's founders began to look for more growth opportunities.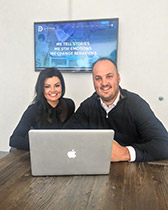 Dittoe PR owners Liza and Chris Dittoe saw their firm's steady, 10-percent annual growth rate jump to 25 percent this year. (Photo courtesy of Dittoe PR)
Chris Dittoe, who played quarterback for the Detroit Lions for two years after playing for IU from 1993-1996, cashed in on his sports background and connections to begin moving the company's ball in a new direction.
It's worked.
Eight years later, Dittoe said his firm's growth rate—which had been 10 percent annually on average over the last seven years—jumped to 25 percent this year.
The company has grown from 13 to 20 employees and Dittoe said it will add up to 10 more over the next year.
But back in 2008, the sports push started when Dittoe landed a deal with the Indianapolis Colts and the firm successfully pitched a story to The New York Times about the team's creative approach to selling naming rights for certain sections of the new Lucas Oil Stadium.
That success led Dittoe to score a deal with FatHeads—a firm that designs large sports-related wall hangings, and USA Football, promoting the organization's Heads Up Football campaign. Subsequently, Dittoe signed deals to promote the 2012 Super Bowl Host Committee's social media headquarters and the 2012 BMW Championship, a PGA golf tournament held at Crooked Stick Golf Club in Carmel.
"They opened up doors for us and earned us media coverage that we otherwise couldn't have imagined," said Vince Pellegrino, senior vice president of the Western Golf Association, which runs the BMW Championship, the third leg of the PGA's FedEx Cup. "They not only understood the event, but what it meant to the community, and that helped gain this event a lot of attention."
In the last year, Dittoe landed deals to work for the 2016 BMW Championship; Evans Scholars—a Chicago-based organization offering college scholarships to golf caddies; Moraine Country Club, a Dayton, Ohio, club undergoing a $5 million renovation; and Chatham Hills Golf Course, a new course embedded in an upscale Westfield residential development.
Last month, Dittoe became the public relations agency of record for Indianapolis-based Lids Sports Group, which has 1,300 retail hat and sports apparel stores nationwide.
Already, Dittoe has gained Lids exposure in Men's Fitness magazine, Inc. magazine and in key new outlets in Los Angeles and Indianapolis, said John DeWaal, Lids vice president of marketing.
"We selected Dittoe because of the firm's impressive track record of generating consistent results for other national retailers," DeWaal said.
Sports-related deals now account for one-third of the firm's business.
To accommodate growth, Dittoe moved in September 2015 from its headquarters at East 62nd Street and Keystone Avenue to one that is nearly 6,000 square feet at 5420 N. College Ave. The new office is 30 percent larger, Dittoe said.
And he doesn't think the growth spurt is over yet.
"There are a lot of opportunities here," Dittoe said. "Central Indiana is a huge sports town."
While Chris Dittoe might be the front man for the company, Liza Dittoe has often been a guiding force.
When Chris played football in Detroit, Liza, 43, an IU journalism major, began her career in New York working for ABC's "Prime Time Live," giving her the opportunity to work alongside Sam Donaldson and Diane Sawyer.
Liza left the show to begin her public relations career, working for a midsize Chicago agency. She departed the company to launch Dittoe Public Relations with her husband out of their basement.
Today, Chris Dittoe attributes the firm's success to its ability to land clients and their projects in the news.
"We specialize in getting our clients press coverage that translates into sales for them," Dittoe said. "We constantly come up with new ways to tell a story."
Dittoe said it has taken "a lot of work and patience," but he and his staff have built a data base that allows the firm to work for clients nationally.
"We can find the right media contacts for any story in any market," he said.•
__________
Greg Andrews' Behind the News column will return next week.
Please enable JavaScript to view this content.