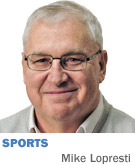 Weary from election fatigue? Or maybe Colts fatigue? For diversion, the Pacers open their season Oct. 26, and we can all agree on one assumption:
They're better this year, with more weapons and willingness to get up and down the floor, and thus poised to make a deeper playoff run.
Unless, of course, they aren't.
Check back on, oh, say, the Sunday after Thanksgiving. They'll be 18 games into the season then, with 12 at home. Ample opportunity to impress early. Or not. But until then, it's #Nobodyknows.
Twitter turned 10 this year, by the way, meaning it hasn't even been around the NBA as long as LeBron James.To mark the occasion, and get the season started, let's go around the league for a status report, with no more than 140 characters per team. In order of their appearance this season at Bankers Life Fieldhouse.
Dallas … Dirk Nowitzki still shines at 38 and the owner still loathes Trump. Mavs have not won a playoff series since '11 title. #CubanforClinton.
Los Angeles Lakers … Mamba is out, remember? Lakers look odd in last, but Hollywood courtsiders hope for brighter post-Kobe days. #Worstisover.
Chicago … Dwyane Wade has come home. But is there second wind for a Windy City that badly needs it? #StillmissingyouMichaelJordan.
Philadelphia … Was nickname changed to 72ers after losing that many? Some signs of life, but then Ben Simmons broke his foot. #Can'tlosemorecanwe.
Boston … Brad Stevens finally turned 40. What next, daily shaving? Celtics faithful expecting a lot after 48 wins. #Yourenotakidanymore.
Orlando … Frank Vogel, we hardly knew ye. Plans are for him to revive the Magic with defense. #Thissoundsfamiliar.
Cleveland … Defending champion Cleveland. Sounds odd, huh? But one thing isn't odd at all: the guy running the show. #TheEastisLeBronland.
Phoenix … The rebuilding and 59-loss Suns will play once in Indianapolis, and twice in Mexico City. #Mightbebadintwolanguages.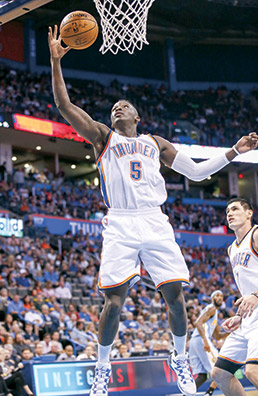 The Oklahoma City Thunder is counting on guard Victor Oladipo to compensate for the loss of Kevin Durant, who signed with the Golden State Warriors over the summer. (AP photo)
Golden State … What lingers most, 73 season wins or blowing 3-1 lead in NBA Finals? Kevin Durant joins in search of rings. #Championshiporbust.
Atlanta … Hawks' nine-year playoff run is longest in the East—by six years. And it should continue. #IfDwightHowardfitsin.
Brooklyn … Linsanity back in town with Jeremy Lin. Billionaire Russian owner is still searching for end of tunnel. #Worstteamrublescanbuy.
Los Angeles Clippers … Ruined by Griffin-Paul injuries last spring, Clippers vow revival. This is Pacers' 12th home game in first 18. #Recordbetterbegood.
Portland … Bloomington North's own Terry Stotts, the only zoology major among NBA coaches, has the Blazers surging. #Defineaherbivore.
Charlotte … Now playing center for the Charlotte Hornets, Roy Hibbert. #Sothat'swhathappenedtohim.
Washington … New coach Scott Brooks made playoffs first five full seasons in Oklahoma City. Missed sixth year. Got fired. #Whathaveyoudoneforuslately.
New York Knicks … They're still waiting in Madison Square Garden for Phil Jackson's Zen to click in. #ThisaintLA.
New Orleans … The Pelicans need much better from Anthony Davis, and a re-enactment of his Oklahoma Sooner fireworks from rookie Buddy Hield. #Lotstofix.
Sacramento … The Kings' last winning season was 11 years ago. Well, at least there's a new arena, anyway. #Borntolose.
Houston … It's all on James Harden now, with no Dwight Howard to blame, as Rockets try to recover from last season's belly-flop. #Atonement.
Detroit … Come watch Andre Drummond and see that, yes, you can be an NBA starter and shoot 35 percent at the free throw line. #Tryablindfold.
Oklahoma City … Former Indiana University flash Victor Oladipo is being asked to help fill the void left by a certain departed superstar. #Kevinwho.
Milwaukee … Say Giannis Antetokounmpo fast three times. Once sold watches on streets of Athens, just signed $100 million contract. #Smellabookdeal.
San Antonio … Last time Spurs began a season without Tim Duncan, Clinton was running for president. No, the other Clinton. #Timeflies.
Memphis … Lawrence North product Mike Conley has a $153 million contract, the NBA's biggest ever. #PoorGregOden.
Miami … The glory days of the Big Three seem a long time ago, in a galaxy far, far away. Now it's up to Goren Dragic. #Onceuponatime.
Utah … Jazz fans, meet George Hill. He'll be in the same lineup with Gordon Hayward. They can exchange IUPUI and Butler stories. #IndyWest.
Denver … The hot Nugget is Nikola Jokic, last seen putting 25 points on the USA in Rio and nearly authoring a Serbian upset. #CoachKforgivesyou.
Minnesota … The theory is Andrew Wiggins will one day help end a losing-season streak that goes back to 2005. #Longcoldwinter.
Toronto … Pacers don't get a home shot at the team that eliminated them last spring until April 4. #BlameCanada.
And finally,
Indiana … The Pacers have a star who can produce points with the ball in his hands. But what if the defense is lousy? #JustliketheColts.•
__________
Lopresti is a lifelong resident of Richmond and a graduate of Ball State University. He was a columnist for USA Today and Gannett newspapers for 31 years; he covered 34 Final Fours, 30 Super Bowls, 32 World Series and 16 Olympics. His column appears weekly. He can be reached at mlopresti@ibj.com.
 
Please enable JavaScript to view this content.