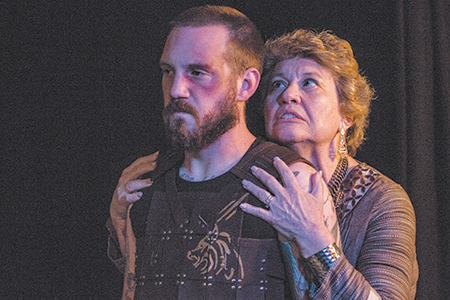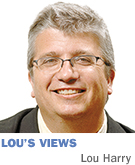 One of the greatest gifts William Shakespeare gave the stage was the richness of his characters. Let lesser artists people their tales with one-dimensional heroes and cardboard villains. The bard's work is filled instead with complex characters who don't fall into such simple categories.
Is Hamlet a hero or a brash young man who brings about his own destruction? Can Iago be fully blamed for Othello's murderous action? Are the suicidal lovers of Romeo and Juliet worthy of respect for their passions or just foolish kids letting their hormones run wild?
In his lesser-known "Coriolanus" (being presented by Catalyst Repertory at Bard Fest, 15 1st Ave NE., Carmel, through Oct. 30), Shakespeare offers up a soldier of heroic proportions—at least, on the battlefield. But when it comes time to return to Rome and civic life, he's woefully ill-prepared. He's smart, yes, but this guy's no diplomat. He can't and has no interest in hiding his distaste for the general public and for politicians. He doesn't understand why he has to role-play humbleness in order to gain the support of the people. And when they turn on him and he is banished, the insult causes him to seek out his military enemy to form an alliance—even with his wife and child still in Rome.
Catalyst's production (being presented in repertory with an unremarkable community-theater version of "Twelfth Night" and a "King Lear" I did not see) benefits from an appropriately intense and committed cast. Taylor Cox (as Coriolanus) and Ryan Ruckman (as his rival, Aufidious) understand both the brutality and the wariness of these military giants. Coriolanus' trio of supporters each brings a truthful humanity to their friendship and their disappointments. As his mother, Volumnia, Nan Macy makes a convincing Achilles' heel.
When Shakespeare is reduced to a small stage and a tight cast, you can expect the pomp and circumstance to evaporate. And as far as design goes, the production offers little more than a bare stage and simple lighting. Rome seems woefully underpopulated when only two people represent the masses. And motivations can challenge believability when inevitable trimming of the text happens (don't count on seeing a full-text version of this play in your lifetime, at least not in central Indiana). Battles are handled creatively but without much gravitas.
But these factors and a sparse audience for a Sunday evening show didn't reduce the commitment of the cast nor the power of much of the remaining text. While not cathartic, Catalyst's production makes a strong case for the play itself. 
And it's nice to know that this Shakespeare fella still has a few tricks up his sleeve. And that there's a local festival committed to more than just the familiar.•
__________
This column appears weekly. Send information on upcoming arts and entertainment events to lharry@ibj.com.
Please enable JavaScript to view this content.