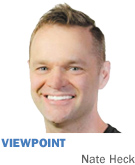 I recently read a NUVO article about IPS and arts education with high hopes. In the end, my feelings on the proposed IPS arts reintegration were a mixture of hope and a sense of urgency.
I applaud IPS for continuing arts reform via the Any Given Child initiative. The proposal outlines three incremental levels to help re-establish the arts in IPS schools: arts for art's sake (where IPS currently stands), arts infusion, and arts integration/STEAM education. The idea is to implement these goals incrementally. However, the only way to save the arts is to focus immediately on the goal of integration. Otherwise, the arts risk being the first on the chopping block the next time state coffers bottom out.
I have seen the effects of such cuts firsthand. I started my teaching career in 2001 at Arlington High School, where I was dropped into a ceramics classroom with laughable supplies and no budget. I then moved to the suburbs where I watched fellow art teachers be cut, one by one, until I was covering two schools with 900 students. And now, I am witnessing my children's IPS teachers work with budgets raised largely from crowdsourcing, festivals, and donations of leftover house paint and bottle caps. 
The problem is, the process is still seen as less important than the product. School boards have school letter grades to achieve, and the "products" created by arts programs seem irrelevant to the task at hand.
But the data is clear: Students with arts education perform better on standardized tests. According to The College Board, students with four-plus years of arts education score 104 points higher on the SAT.
We must change the narrative. But how? We have to realize what is going on inside the art room can be found in science, reading and math and that being more creative is going to get you further. The world is yearning for new ideas. As Daniel Pink writes in his book "A Whole New Mind," modern-day industries require a combination of left-brained pragmatists and right-brained envelope-pushers, often in a single employee.
My children's school, William A. Bell, continues to give me hope in this regard. On a thin dime, it has managed to integrate the arts into every aspect of school culture: folk dancing in gym class, sculpting in Spanish class, quilting in conjunction with books. Students write to authors and illustrators and get responses about their craft and their message. If you attempted to cut the arts there, you wouldn't know where to start. It is part of the fabric of their curriculum.  
Our PBS program, "Artrageous," is similarly inspired. We take the likes of Picasso, Van Gogh or Frida Kahlo and showcase their creative power alongside unsung creatives such as microbiologists, roller-coaster engineers or industrial designers. Our goal is to not just talk about the importance of STEAM education, but to show it in action. Both art and science educators let us know they are using our episodes and teaching resources. Because, in the end, art and science are not so very different.
Unfortunately, the artificial subject distinctions and numerical data of testing are still overrated. While it makes us comfortable to rely so much on what we can easily measure, Einstein himself said, "Imagination is more important than knowledge." It's time that we start to realize that, in order to deliver the employees businesses want, we are going to have to not only prioritize the arts but to integrate them fast, before the next wave of testing hits the Senate floor and runs over our initiatives.•
__________
Nate Heck is an artist, educator and speaker and the creator of "Artrageous with Nate," a two-time Emmy-award-winning PBS Digital Studios series.
 
Please enable JavaScript to view this content.