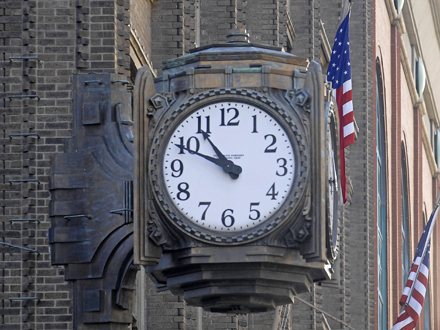 A fundraising campaign to restore the 80-year-old "Ayres clock" mounted on the corner of Circle Centre mall at Washington and Meridian streets has been a success.
Historic preservation group Indiana Landmarks, which led the campaign, said $60,000 has been raised—three times more than the original fundraising goal. The extra money will be needed, the group said.
"We hoped to raise $20,000 by Nov. 7 to restore the 10,000-pound clock and create a maintenance fund," the group said in a statement on its web site. "Then we discovered that the clock was originally lit from within, and that the bronze case needs repair and cleaning, so we increased our goal. With contributions and pledges, we reached the goal of $60,000 on Oct. 26!"
The massive clock is attached to the old L.S. Ayres department store building, which was built in 1905 and designed by prominent architectural firm Vonnegut and Bohn. It now is home to a Carson's store.The clock hasn't worked in years and provides the correct time only twice a day.
Vonnegut and Bohn co-founder Arthur Bohn designed the 8-foot-tall clock in 1936, and it was mounted 29 feet above the sidewalk. In 1947, Ayres began the annual tradition of placing a 3-foot cherub sculpture on the clock on the day before Thanksgiving. The sculpture, created by Herron School of Art instructor David Rubens, soon helped turn the clock into a holiday landmark for shoppers.
Indiana Landmarks contacted clock experts and decided Smith's Bell and Clock Co. of Mooresville was the right business to fix and maintain the clock. The device needs new movements, a controller and balanced hands, among other items.
Indiana Landmarks would like the clock repaired before the cherub-mounting ceremony on Nov. 23. More detailed conservation work won't take place until the spring.The city has promised expedite permits to help get the repairs done in time.
Indiana Landmarks said the clock repair alone will cost $14,000.
"We've raised enough to buy four new clock faces to replicate the original ones, re-light the faces, clean and repair the bronze, and enlarge the maintenance fund to ensure both annual clock cleaning and repair and cleaning, and conservation of the bronze case and cherub about every four years," Indiana Landmarks said.
The group said a worker on a lift who was inspecting the clock found an unsecured 9-inch bronze part that could have fallen on a pedestrian's head.
Please enable JavaScript to view this content.