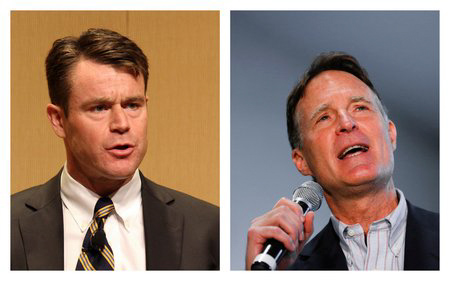 Democrat Evan Bayh and Republican Todd Young are tied in their contest for control of Indiana's U.S. Senate race, according to a new Monmouth University Polling Institute poll.
Bayh and Young are tied at 45 percent of the vote each among likely voters, with Libertarian Lucy Brenton pulling in 4 percent.
Young has erased Bayh's lead earlier in the race. Bayh had 6- and 7-point leads in two previous Monmouth polls.
The movement is likely coming from Young's attacks on Bayh's record, as well as higher support for Republican presidential nominee Donald Trump in Indiana compared with earlier in October.
Now Trump has a 11-point lead in Indiana over Democratic nominee Hillary Clinton, according to the Monmouth poll, a big shift from two weeks ago when Trump had a 4 percent lead in Indiana over Clinton.
Voters are viewing Bayh and Young more negatively, too. Bayh has a 38 percent favorable rating and a 32 percent unfavorable rating in the poll, compared with a mid-October poll that had him at 40-26 favorable-unfavorable rating.
Young has a 30 percent favorable to 24 percent unfavorable rating, compared to a 27 percent favorable to 19 percent unfavorable rating in mid-October.
The poll was conducted Oct. 27-30 with 402 likely voters, and the survey has a margin of error of plus or minus 4.9 percent.
Please enable JavaScript to view this content.