A kiosk and charging stations for Bollore Group's car-sharing service were installed this month at 14 E. Washington St., in time for the Electric Drive Transportation Association's annual conference that begins May 19.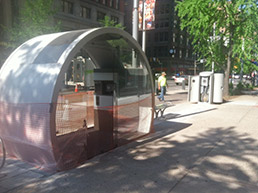 Mayor Greg Ballard hopes the Washington Street demonstration site is the first of 200 car-sharing stations throughout the city. (IBJ Photo/ Cory Schouten)
Bollore Group's local subsidiary, BlueIndy LLC, will hold an inaugural event at noon that day in conjunction with the conference.
Washington Street is the demonstration site for what Bollore Group and Mayor Greg Ballard hope will be the nation's first all-electric car-sharing service, with 1,000 charging stations at 200 locations throughout the city.
To expand beyond the demonstration site, BlueIndy and the mayor hope the Indiana Utility Regulatory Commission will approve a small hike in electricity rates to cover the cost to Indianapolis Power and Light of extending lines to the charging stations.
IPL estimates its costs at $16 million, which translates to 44 cents a month, starting in January 2018, for the average residential customer. However, the rate hike could be mitigated if Blue Indy is profitable, according to an agreement with the city in which profits will be shared with IPL to offset its costs.
The IURC scheduled a prehearing conference and preliminary hearing on IPL's petition for May 15.
Please enable JavaScript to view this content.