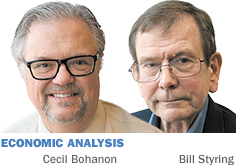 We hear it around election time. It even makes it into the State of the Union address. Women earn 77 cents for every dollar men earn. And we should all be ashamed of it—this is a terrible social injustice and the government should do something about it. Moreover, the reason women are so underpaid is because of sexism. Good old boys who hire workers and determine wages discriminate in favor of men by paying "the guys" 23 percent more for the same work women do. Misogyny, plain and simple. The oppression of the patriarchal power structure.
Well, not so fast. Yes, national data do show that females earn something like 77 cents for every dollar men earn—and that's up from 59 cents in the 1970s. Nevertheless, the common inference about the statistic is grossly misleading.
Dozens of factors determine any worker's pay. They include occupation, educational attainment, years of experience, interruptions in work experience and a host of other intangible factors. Serious researchers on pay differences between groups try to identify these factors and control for them in their statistical analysis.
Pre-K workers are, to no surprise, paid less than research scientists. That more women are in the former occupation and fewer in the latter relative to the population is not evidence of wage discrimination. The issue is, what do females in the same occupation, with identical education, identical work experience and work histories make compared with their male counterparts in an apples-to-apples comparison? Numerous studies do this, and the results are mixed. But they do consistently show that, once other relevant factors are controlled for, the wage gap between men and women is either significantly reduced or eliminated.
Don't believe two old white guys like Bohanon and Styring? OK. Consider the insights of Claudia Goldin.
In 1990, Goldin was the first woman to get tenure in the Harvard economics department. In 2014, she served as president of the American Economic Association. She has spent much of her professional career examining this issue. When asked about the size of the female wage gap in a January 2016 podcast, she responded that the "answer is that it's a pretty small number—this number for wage discrimination—once you hold lots of things constant."
If this version of the gender pay inequity is supposed to be part of a larger War on Women, it's mostly a phony war.•
__________
Bohanon is a professor of economics at Ball State University. Styring is an economist and independent researcher. Both also blog at INforefront.com. Send comments to ibjedit@ibj.com.
Please enable JavaScript to view this content.