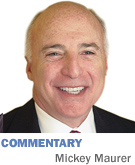 I am taking a hiatus from this column until sometime next year in order to complete a book. Our editors will publish a favorite column once a month. This one is from 2003.
"We're having lunch with the Bushes."
It was Cousin Eddie Yosowitz on the telephone. Remember Cousin Eddie? He is the obstetrician/gynecologist in Houston who tried to cut the mustard in the hot dog business. ("There ain't no hog in the Yoso dog.")
Eddie has always been fascinated with business. A good cook, he worked his way through school in restaurants and even had a stint as a singing waiter. He dreamed of having his own restaurant and, against the advice of many friends, he went to the dogs.
I last wrote about Cousin Eddie in February 2002 when he hit the Superfecta. At Mickey's Camp, Eddie had learned how to decipher the hieroglyphics of the horse racing form from Churchill Downs Vice President John Asher. A few months later, he plunked down $24 on the eighth race at Laurel Park and rooted home the first four horses in exact order, including a 40-to-1 long shot. His $24 bet returned more than $21,000.
Cousin Eddie was excited again when he called. He had mentioned to one of his many grateful patients that we were planning a trip with our wives to Maine. The patient, whose husband is a speechwriter for President George W. Bush, insisted upon arranging a private luncheon for the four of us with George H. W. and Barbara Bush at their summer retreat in Kennebunkport. Janie and I looked forward, with only a little skepticism, to a fascinating experience.
"Eddie, are you sure?" Eddie was sure. "We got the appointment confirmed right from the top. Read my lips. It's a go."
That morning, we meandered down the coast of Maine to Walker's Point, home of George and Barbara Bush. Eddie confidently drove right by the gawking tourists and up to the security gate. He uttered the magic words provided to him by the Bush liaison and the gate opened. We entered the hallowed ground. At the parking lot, an intern asked if we wished to tour the estate. We wheeled around the property in an old golf cart, waving to a few people who were obviously just as important as we were. Eddie was enthusiastic. He offered me a high five.
The guide showed us the helicopter pad where the current President Bush lands when he visits his mother and father. She pointed out other areas of interest, including the Secret Service compound. In the middle of a field, we saw a statue of a cow with handprints of all the Bush grandchildren, a gift to Barbara from her husband. The intern threw in some history of Walker's Point. She had delivered this spiel before.
Cousin Eddie was eager to tell President Bush, a fellow Texan, that he had delivered one of his grandsons. I was hungry. It was past the lunch hour.
Uh oh, the cart was heading back to the parking lot." Aren't we going to have lunch with the Bushes?"
The young intern deadpanned, "Mrs. Bush is busy signing her new book and President Bush is in a meeting."
No lunch. Eddie was crestfallen. The golf cart lurched to a halt, along with Cousin Eddie's high hopes. Apparently, the intern was ordered to give us the old tourist heave-ho—one trip around the cow and back to the gate.
On the sidewalks of Kennebunkport, while drowning Cousin Eddie's sorrows and our Maine lobster in drawn butter, I wondered to myself, how rich or famous does one have to be to cavalierly break commitments?
At the very least, either George or Barbara should have taken the time to personally express regrets. Are ex-presidents not responsible for their bad manners? Cousin Eddie is a sensitive, caring and creative guy with a witty personality—an engaging lunch companion. Perhaps it was just a misunderstanding, but it was the Bushes who missed the opportunity.
Update: At age 74, Cousin Eddie is still practicing medicine. He's gotten over the Bushes. Might he arrange lunch with President Clinton? I wouldn't be surprised.•
__________
Maurer is a shareholder in IBJ Media Corp., which owns Indianapolis Business Journal. To comment on this column, send e-mail to mmaurer@ibj.com.
Please enable JavaScript to view this content.