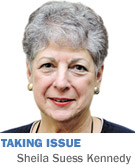 One of the most critical issues of the 2016 election has been inexplicably downplayed if not ignored by the media: the inexcusable refusal of Republicans in the Senate to fill vacancies on the federal bench.
This behavior did not begin with the stubborn and unprecedented refusal to "advise and consent" to President Obama's nominee to replace Justice Antonin Scalia.
Since Obama was elected, the Senate GOP has stubbornly resisted acting on the majority of Obama's judicial nominees. According to the Federal Bar Association, vacancies in the district courts, where most federal judicial work gets done, are reaching crisis proportions: 65 seats on the district court bench and at least 90 vacancies throughout the Article III courts. That's more than 10 percent of the federal judiciary.
Lawyers have a saying: Justice delayed is justice denied. When dockets are slowed to a crawl, when there simply aren't enough jurists to move litigation at a reasonable pace, people with legal grievances find themselves between the proverbial rock and hard place; they can settle for less than they are entitled to or wait an extra couple of years for their day in court.
But, hey! Senate Republicans sure showed President Obama!
Refusing to fill positions that are needed if government is to function properly is less public than throwing tantrums and shutting down government, but the result—while slower—is the same. This is partisanship over country, no different from the bully on the playground who, when he loses, takes his ball and bat and goes home. Recent vows by Sens. Ted Cruz and John McCain to block Supreme Court nominees through an entire Clinton presidency should remove any doubt about the motivation for the GOP's behavior.
The failure of the media to hold candidates' feet to the fire over this issue is frustrating. Here in Indiana, Todd Young has enthusiastically thrown his lot in with those promising to block Merrick Garland, or anyone else nominated by Obama. His website has featured a prominent "petition" encouraging signatories to "stand with Todd" against filling the vacancy.
To put it bluntly, such a position is disqualifying.
Think about what this means. A candidate for the U.S. Senate is asking for Hoosiers' votes; in return, he promises to throw sand in the gears of the government he is being elected to manage.
A candidate for the U.S. Senate is proudly telling voters that, when the interests of the nation—their interests—come into conflict with the prospects of his political party, he will ignore his obligations to them and to the Constitution if doing so will benefit his party.
I suppose I shouldn't be shocked. After all, Young has continued to support Donald Trump, who is running on a platform totally inconsistent with the Constitution and long-standing American values. And he evidently supports Senate Majority Leader Mitch McConnell, of Kentucky, who has made no bones about the fact that his sole motivation the past eight years has been to thwart President Obama, even when the president's proposals came originally from the GOP and even when they were self-evidently in the national interest.
What does shock me is the lack of media attention to the intentional crippling of the federal court system, an issue that affects all Americans.
Why isn't every candidate for U.S. Senate being asked: "If elected, will you do your job? Will you provide your honest advice and consent to nominees for the federal bench? And if not, why not?"•
__________
Kennedy is a professor of law and public policy at the School of Public and Environmental Affairs at IUPUI. She can be reached at skennedy@ibj.com.
Please enable JavaScript to view this content.