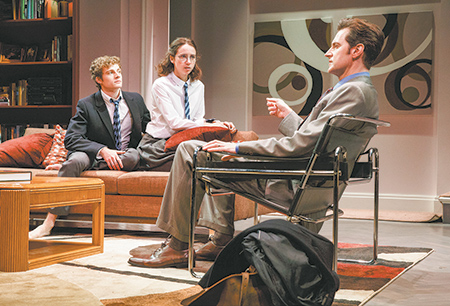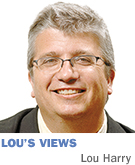 Thinking of catching a show on your next trip to New York?
While Broadway is the default setting for most theater-going travelers, sticking exclusively to Broadway is like visiting Nashville to hear music and going only to the Grand Ole Opry. Sure, that's where you'll find the highest-profile choices, but there's a lot more out there to choose from if you open yourself up to the off-Broadway possibilities.

Decades ago, the term "off-Broadway" conjured up images of uncomfortable theaters in out-of-the-way places doing experimental work. That was then. Now, much of what ends up on Broadway—including the mega-hit "Hamilton" and the recent Tony-winning drama "The Humans"—began off-Broadway.
But it's far from just a Broadway farm team. While Broadway shows are, for the most part, for-profit projects, about half of off-Broadway shows are produced by not-for-profit theaters, allowing for a far wider range of choices since there's less of a profit expectation. Off-Broadway shows don't need to run for years in order to pay back their investors, and they aren't going to close quickly because of bad reviews or disappointing box-office returns. There are some long runs ("The Fantasticks," for instance, keeps going and going and going), but it's also the place where you are more likely to see reimagined classics and brand-new work—both of which Broadway producers are resistant to backing.
Yes, the theaters are a bit smaller—off-Broadway venues have 99-499 seats compared to 500-1,935 on Broadway—but the intimacy is one of the biggest attractions. And the tickets are cheaper—or, at least, better seats can be had for the same price. An orchestra center seat at the running-forever Broadway production of "Chicago" is $189. Meanwhile, every seat for the outstanding new play "Love, Love, Love" at the Roundabout Theatre is $99 if purchased at full price—and that's near the high end of off-Broadway.
Other off-Broadway advice:
■ Getting around. While Broadway theaters are concentrated within a few blocks, off-Broadway houses can be just down the block or all the way across town. Plan accordingly.
■ Shopping around. Discounted off-Broadway tickets can be found at the various TKTS ticket booths, but you can also go right to the box office where many offer last-minute rush tickets for $30 or less. You can find all the rush policies posted at Playbill.com. It pays to be spontaneous.
■ Sticking around. The smaller the theater, the more likely you'll get a chance to have your program signed and snag a selfie with actors after the show.
Intrigued? On a recent trip to New York, I caught six off-Broadway shows. I also visited one Broadway show, the revival of "Les Liaisons Dangereuses" this trip. Find a review here.
Here's a review sampler of off-Broadway offerings.
"Love, Love, Love"
Roundabout Theatre Company
Richard Armitage (Thorin in the "Hobbit" movies) stars in a blistering comedy drama that begins in the 1960s as a "boy-meets-his-brother's-girl" story and jumps decades ahead following the "in-it-for-themselves" couple. Mike Bartlett, who also wrote the Tony Award-winning Best Play "Charles III" (coming soon to Cardinal Stage in Bloomington), deftly balances the big picture—the damage wrought by a generation with entitlement issues—with the specific, as the amiable but exasperating couple wreaks havoc on its children. Outstanding performances across the board, a smart trilogy of time-hopping sets and costumes, and a top-notch script make this bitter pill easy to swallow.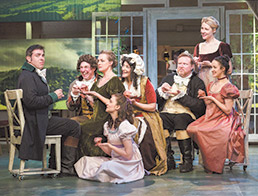 If you think Jane Austin's "Sense and Sensibility" can't be high energy, check out Bedlam's production just off Washington Square Park. (Photo courtesy of Gregory Costanzo)
Bedlam's "Sense and Sensibility"
The Gym at Judson
Written by and appealingly starring Kate Hamill, this Jane Austen adaptation—at least in its first half—is both a gloriously smile-inducing celebration of theatrical ingenuity and a clear, brisk telling of the story, in which a widowed mother's decline in station influences the romantic efforts of her two eldest daughters. Set on a traverse stage, with audiences along two sides, the quick-changing actors' dressing area in view, and set pieces zooming around on casters, "Sense" employs a parade of devices without ever letting the results feel like a parody a la "The 39 Steps." After intermission, the plotting gets a little muddy and the gimmicks are piled on a bit thick, but that doesn't mitigate the magic from a company whose work I'll now keep a firmer eye on.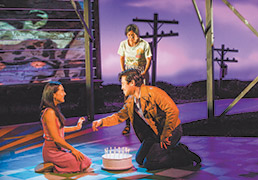 A fresh voice in American theater, Qui Nguyen tells his parents' story in "Vietgone." (Photo courtesy of Carol Rosegg)
"Vietgone"
Manhattan Theatre Club
Qui Nguyen's "Vietgone" combines graphic-novel sensibility, rap music and lots more in an eyeful of a show that doesn't always succeed but ultimately packs a punch courtesy of a perspective-shifting monologue near the end of the show. The journey there involves Tong (Jennifer Ikeda) and Quang (Raymond Lee), who meet in a refugee camp in America, a stopover on Quang's motorcycle trek to the West Coast to return to Vietnam in order to try to retrieve his family after the fall of Saigon. Nguyen brings surprising sexuality to the table along with an "I'll-tell-the-story-my-way" insistence that is often refreshing even if, at times, exasperating.
"Cagney"
Westside Theatre
Lest you think all of off-Broadway is bold new work, here's a throwback: a straight-up show biz bio that aims for no more than to offer a "this-happened-and-then-this-happened" chronology of James Cagney's rise from the streets to hoofing on stage to the movies. There's some fun tapping to be had and the cast is certainly game, but this musical tribute isn't terribly interested in revealing anything more about the man than we know in the first few scenes.
"Orwell in America"
59e59
A man of ideas whose interpersonal skills aren't quite up to snuff, George Orwell—as portrayed here by Jamie Horton—is a fascinating figure. When he recounts the plot of "Animal Farm," grows increasingly frustrated trying to draw a clear distinction between communism and socialism, or offers insight into the differences between post-war America and post-war England, he's riveting. But Joe Sutton's play isn't a one-man show. His Orwell is on a book tour shepherded by a young publicist and the device feels, well, like a device. (For the record, Orwell didn't tour America promoting "Animal Farm.") But some clunkiness is worth it when the central character is this interesting.
"The Harvest"
Lincoln Center's Claire Tow Theater
It's just a few days before a group of young people take off for an evangelical mission trip to the Middle East, and while most will be returning to the United States in four months, Josh (Peter Mark Kendall) has opted for a one-way ticket. While his fellow travelers admire his commitment and faith, there's a lot more going on in Josh's head. I can't recall a recent theater experience where I felt so invested in the fate of the lead character, yearning for him to make a specific choice up to the final moments. I hope this taut, deeply felt drama has a long life in regional and college theaters.•
__________
This column appears weekly. Send information on upcoming arts and entertainment events to lharry@ibj.com.
Please enable JavaScript to view this content.