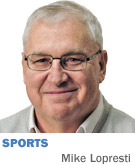 What's the traditional gift for the fourth anniversary? Linen? Well then, let's get some nice napkins to honor the ongoing marriage of that charming couple—Butler University and the Big East.
The college basketball season starts Nov. 11, from the Maine Black Bears to the Hawaii Rainbow Warriors. In Hinkle Fieldhouse, too, where the new Big East looks all grown up in its fourth season, and Butler is not an apprentice anymore. Truth be told, the first three years were not all peaches and cream.
Butler had to know what it had signed up for: more money, more TV, more renown and more elbows. "It's competitive, and it's physical," Kelan Martin said the other day, and he ought to know, having exchanged body blows for two seasons.
So it hasn't been easy on 49th Street as a dues-paying member of the Big East. It never will be. The Bulldogs are 27-31 against the league since coming aboard. They went 0-7 last season against three of the upper crust—Villanova, Xavier and Providence. They have never won a Big East tournament game, a stark contrast to the 9-1 record in their last 10 NCAA Tournament first rounds. They have never beaten Villanova in six conference meetings, and are 2-12 against Xavier and Providence. The Musketeers have been a particular pain in the Bulldog collar, with six Butler defeats by an average margin of 14 points.
It'd help to eventually strike a blow against the conference royalty. "I know exactly what you mean," Andrew Chrabascz said. "We're looking at them as just another game on our schedule, but obviously there's a little asterisk next to them."
But then, Butler has owned Seton Hall and DePaul (11-2) and played Georgetown and Creighton even. The Bulldogs finished tied for second in 2015. The fourth-place tie last season was good enough to get them past the selection-committee bouncers and into the NCAA Tournament. So they've proven they belong, just as the Big East has proven it deserves mention among the elite conferences. Thank Villanova for that.
"It just validates our league," Butler Coach Chris Holtmann said of the Wildcats' national championship last April. "Not that our league needed any validation, but let's be honest, it probably did, given the new dynamics and the new teams. You do have to do it in March."
Now we have to see what all that means for Butler in Year 4, with no Roosevelt Jones or Kellen Dunham to lean on. Indiana might have lost Yogi Ferrell and Purdue A.J. Hammons, but nobody around here watched more walk out the graduation door—3,479 points worth. Which is why the Bulldogs were picked to finish sixth in the preseason Big East poll. They do that, and they're living on the NCAA Tournament bubble come March.
"We haven't really used it with our guys," Holtmann said of the sixth-place forecast. "They understand that when you lose what we lost—no one lost more [top players] than us in the league, except for Providence—there's going to be a change in expectations.
"We need to just put good recruiting classes together and that's going to take a little bit of time. I know people don't like to hear that. Now what that means to us in terms of wins and losses, I don't know.
"I think our guys get it."
How to react, then, to being picked for the bottom division?
"Just get better every day as a team," said Martin, now the main man for the Bulldogs.
"We respect it, but we know what this team is capable of," said Chrabascz, last seen scoring 25 points against Virginia in the NCAA Tournament. Chrabascz mentioned something about the need to play better defense, and was rather direct about Butler's effort on that end in 2015-2016.
"We were awful."
Awful?
"We relied so much on knowing we were a strong offensive team that we could be a little lackadaisical on the defensive end, which is not an approach that Butler has ever taken, or ever been acceptable with."
It's going to require work, a new focus, and lots of help from new faces, in other words. And not just against the Big East. The non-conference road includes Northwestern, Vanderbilt—newly coached by Valparaiso legend Bryce Drew—a potential Las Vegas date with Arizona, a trip to Utah, Cincinnati and Indiana.
"The hardest one I've been a part of. I'm confident it'll bring us together," Holtmann said of the non-Big-East portion of the program. "Whatever they get, they're going to earn. I think they have an understanding of that. They understand where some of the people have picked them and some of the skepticism people have about this group. I'm hoping they are hungry to go out and prove what they're capable of."
Holtmann called it maximizing potential. "The difficult thing is," he said, "I don't know what the potential of this group is yet."
The Big East will show him, will expose every flaw. Three years have certainly taught Butler that.•
__________
Lopresti is a lifelong resident of Richmond and a graduate of Ball State University. He was a columnist for USA Today and Gannett newspapers for 31 years; he covered 34 Final Fours, 30 Super Bowls, 32 World Series and 16 Olympics. His column appears weekly. He can be reached at mlopresti@ibj.com.
Please enable JavaScript to view this content.