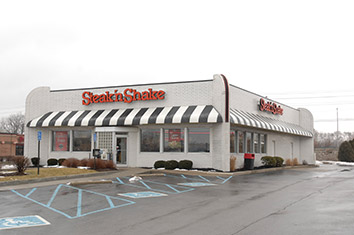 Sales at established Steak n Shake restaurants rose slightly in the latest quarter following disappointing results last period that snapped a streak of 29 consecutive quarterly increases dating to 2009.
The Indianapolis-based burger chain reported Friday that same-store sales in the third quarter increased 0.2 percent as customer traffic slipped 0.2 percent in the quarter ended Sept. 30.
The results were contained in the latest earnings report from Biglari Holdings Inc., the San Antonio, Texas-based parent of Steak n Shake.
Though the growth in same-store sales was slight, the results bested the previous quarter, when the they slipped 0.7 percent, snapping the streak of positive quarterly increases.
Same-store sales refer to revenue from company-owned units open at least 18 months at the beginning of the quarter and are a measure considered by analysts to be a better indicator of the long-term health of a company's operations.
Overall, Steak n Shake reported revenue of $203.7 million in the third quarter, nearly identical to the year-ago period, when the burger chain had revenue of $203.5 million.
Profit at the 583-restaurant chain was $10.4 million in the latest period, down from $10.8 million last year.
Nearly three-quarters, or 417, of Steak n Shake's restaurants are company-owned.
Most of Biglari Holding's revenue is derived from Steak n Shake. The holding company reported a loss of $60 million, due to investment partnership losses, on revenue of $216.7 million. The loss compared to a $9.3 million profit in the year-ago period.
Investment partnership losses totaled $108.6 million in the latest quarter. No explanation was given for the drop, but the company said that it does not regard fluctuations in the partnerships' carrying values to be "meaningful."
Besides Steak n Shake, Biglari Holdings owns the Western Sizzlin restaurant chain, Maxim magazine and First Guard Insurance Co.
The holding company is led by chairman Sardar Biglari, who also operates The Lion Fund. Biglari Holdings has invested hundreds of millions of dollars in the fund, giving the Biglari-controlled entity the financial firepower to scoop up additional Biglari Holdings shares.
Shares of Biglari Holdings are trading at $419.03 each, up 25 percent this year.
Please enable JavaScript to view this content.