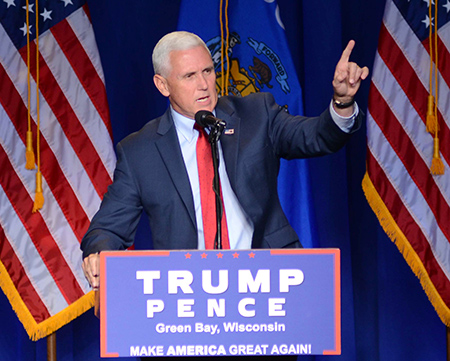 Democrat John Gregg ran for Indiana governor hoping to beat Republican incumbent Mike Pence in a rematch of their 2012 campaign. But after Pence left the campaign to become Donald Trump's vice presidential running mate, Gregg shifted gears to GOP replacement Eric Holcomb and has tried to tar him with Pence's policies, including the state's much-criticized religious freedom law.
Gregg appealed to Hoosier voters by saying he would steer clear of the nation's culture wars. A Gregg victory would end 12 years of Republican control of the governor's office.
A former Indiana House speaker, Gregg started out better known than Holcomb, who has never been elected to office and only became Pence's lieutenant governor eight months ago.
Thrust into the campaign in late July, Holcomb had to sprint around the state introducing himself to voters. To deflect Gregg's criticism on social issues, Holcomb has stressed economic bright spots such as a $2.4 billion state budget surplus, an unemployment rate of only 4.5 percent, recent tax cuts and the state's AAA credit rating.
He also has largely avoided mentioning Pence, instead highlighting his time working for Pence's two-term popular predecessor, former Gov. Mitch Daniels.
Gregg has attacked Holcomb as a "rubber stamp" for Pence, citing Holcomb's support for the religious freedom law that critics said sanctioned discrimination against gays and lesbians. A centerpiece of Gregg's campaign is to extend state civil rights protections to gay, lesbian, bisexual and transgender people.
Holcomb said the state hasn't suffered lasting economic harm from the law, which was modified after it was initially passed to add protections against discrimination. He also said the General Assembly is unlikely to advance an LGBT rights bill after a compromise attempt failed during this year's legislative session.
Gregg, whose running mate is state Rep. Christina Hale of Indianapolis, planned to vote early Tuesday in his southwestern Indiana hometown of Sandborn, then head toward Indianapolis.
Gregg knocked Holcomb for presenting vague policy ideas.
"We've actually got plans," Gregg said in an interview Monday. "You can say anything you want to, but you need to have some plan, some vision."
Holcomb, whose running mate is state Auditor Suzanne Crouch of Evansville, planned to cast his vote early Tuesday near his home on the northwest side of Indianapolis.
"We need them to keep the pedal to the metal down this final stretch," Holcomb said. "We want to take no vote for granted and leave no stone unturned."
Pence's decision to drop his re-election bid means Indiana will have a one-term governor for the first time since the state constitution was changed in the 1970s to allow governors to seek a second consecutive term.
Holcomb, 48, has mostly been a behind-the-scenes political strategist and manager, including chairman of the state Republican Party. He spent 10 months running for this year's Republican U.S. Senate nomination, but had little fundraising success. He dropped out when Pence picked him to become lieutenant governor in March, after Pence's 2012 running mate, Sue Ellspermann, resigned to take the top job at Ivy Tech Community College.
Gregg, 62, was first elected as a state representative from a rural southwestern Indiana district in 1986, after working as a coal company lobbyist and practicing law in Vincennes. He has been out of public office since stepping down as Indiana House speaker in 2002. He has since worked as interim president of Vincennes University and as a partner and lobbyist with an Indianapolis-based law firm.
Please enable JavaScript to view this content.