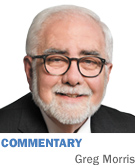 After this seemingly endless election season, almost everyone seems relieved it's finally over. I think we all knew this would be bad, but most of us really had no idea just how bad. The 2016 campaign was a new low, to be sure. Just before the end of this election season, a CBS poll showed 82 percent of Americans were disgusted by the presidential election.
That contest highlighted in such a stark way how ideologically divided the country is. Whoever won, tens of millions of Americans were going to be angry and feel let down. With the unexpected victory of Donald Trump, the reactions are magnified. Trump's most immediate task will be to convince his detractors that he's the right person for the job and that he intends to be president for all Americans. Hillary Clinton would have faced that same daunting task had she won.
I'm sure none of us are naive enough to think anything is going to return to normal anytime soon, whatever normal is now. It's all over but the shouting. Right? We're still a deeply divided country and, while we had winners and losers, there weren't many wins that showed an overwhelming mandate for a certain candidate. But we don't have to watch or listen to all those excruciating political commercials anymore, at least not until the next time around.
I'm wondering if it's safe to let the kids watch TV again. If they were exposed to political coverage or ads the past several months, they did not receive a good lesson in civics. Instead, they got a good dose of near-X-rated television, the worst possible behavior exhibiting multiple examples of poor manners, deceit, lack of ethics and an absence of leadership qualities. If the kids were watching, maybe they learned what not to be when they grow up.
And speaking of worst examples, can we ever trust the national media again to report the news and give us an objective viewpoint? It was a shameful performance all the way around. I did a pretty good job of avoiding the media circus, and I think I'm a better, more objective person for it. As I suggested in a previous column, television journalism is most certainly dead, based on its coverage of the 2016 presidential election.
There's not one national television source I trust to give me an objective presentation I can use to make up my mind on an issue. Not one! Not one major TV network news division and not one cable channel. I know it's not easy to adhere to journalistic standards these days—with reporters blogging, the Wild West of the internet masquerading as a legitimate news source, social media channels pretending to be news, and the desire to be first with a story, etc. But so-called "legitimate" news organizations need to clearly separate and label what's news and what's commentary and let the viewers think for themselves.
But what's done is done. What about the future? You can't control what other people do or say, but you can choose how you act or react to any situation. We can choose to make things better. Yes, I understand that about half the country is really upset about the outcome of the presidential election, and will be for a very long time.
Let's accept the people's will and move forward in as positive a manner as possible. If you don't like the sound of "President-elect Donald Trump," you've got four years to work toward a new president. And whether the presidential election went your way, or maybe Gov.-elect Eric Holcomb or Sen.-elect Todd Young don't suit you, l suggest we are all best served when our elected officials make an effort to reach across the aisle, compromise and accomplish good things for the citizenry. I realize everyone's definition of what's "good" is different. I'm just trying to take the positive long view here after a brutal election process.
And as I've previously discussed, state and local elected officials and referendums are more likely to have a greater impact on your day-to-day quality of life. You had to believe there were some positive outcomes in those elections.
Bottom line. It's time to leave all the ugliness behind and remind ourselves what constitutes right and wrong. It's time to mind our manners and champion good ol' "Hoosier values." It's time to get back to business.•
__________
Morris is publisher of IBJ. His column appears every other week. To comment on this column, send email to gmorris@ibj.com.
Please enable JavaScript to view this content.