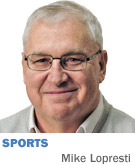 Is everything OK now? With the Colts, that is.
Here at the bye week, all seems calmer. No one has called for Chuck Pagano's head in days. No tornado warnings on West 56th Street at this time. So the crisis has passed?
"We'll find out," Pagano said. "You get made out to be something you are not after you win, and you get made out to be something you are not after you lose, and somewhere in the middle is where reality lies."
One reality, given the 4-5 record, is that a wild card spot seems as impossible as the Cubs winning the World Series (wait, strike that)—as impossible as an Indiana or Purdue Rose Bowl (that's better). So taking the division appears mandatory, and the margin for error is gone for that, with 5-3 Houston two games ahead in the loss column.
Go back to something Darius Butler said after the Kansas City mess. "We always talk about sins, self-imposed negatives, and we can't have that." Nope, no more sins the last seven games.
These, then, are the Ten Commandments for winning the AFC South.
No. 1. Thou shalt not spoil the good feelings from the Green Bay victory by tripping and falling over Tennessee next week.
In other words, actually win two games in a row. Doesn't sound like much, but the Colts haven't managed it yet this season. They've been doing the one-step tango. One step forward, one step back. Or as Pagano said, "It has been one hell of a roller-coaster ride."
No. 2. Thou shalt not remember the past two seasons against Pittsburgh, when the defense was shredded for 45 and 51 points.
A repeat of that on Thanksgiving night in Lucas Oil Stadium would cause mass unease, not to mention mass indigestion of the turkey. But a win over the Steelers would be a huge boost, psychologically and otherwise. P.S. Not to quibble after the nice visit to Lambeau Field, but the Colts still don't own a win against a team that currently carries a winning record. The Steelers might have one by then.
No. 3. Thou shalt not even think about losing to the 3-6 New York Jets.
The flop in London against 2-6 Jacksonville was damaging enough, thank you.
No. 4. Remember the home field, to keep it meaningful.
Especially with all three division opponents still to visit. Here's a number that speaks to recent woes: The Colts are 6-6 in Lucas Oil Stadium since the start of the 2015 season. Their first-ever home loss to the Texans last December killed their playoff chances. Another one this December probably would, too.
No. 5. Honor thy quarterback, by keeping him upright.
If Andrew Luck holds his current passer rating, it would be the second best of his career, but how many times is he going to have to be helped off the turf? He's on pace for a staggering 59 sacks. Tackling dummies don't get hit that often. Every so often, such as with certain plays in Green Bay, we get a snapshot of what he could do, given time.
No. 6. Thou shalt endeavor to cut down on turnovers.
At the moment, the Colts are minus-2 in turnover differential, which is not usually healthy for postseason chances. Then again, this is the AFC South, which is better at giveaways than the Salvation Army at Christmas. The four teams are a combined minus-27 in turnovers.
No. 7. Thou shalt keep a fire lit beneath T.Y. Hilton.
He is the Colts' weather vane. On any given Sunday, just take a look at Hilton to find out which way the wind is blowing for the Colts. Hilton's average receiving yards in the four victories: 140. His average yards in the five defeats: 46.2.
No. 8. Thou shalt not do anything foolish—crazy play call, knucklehead turnover, defensive lapse, etc.—to lose the close ones.
Apparently, that's pretty much what the Colts are going to get this season. Seven of the first nine games were one-possession finishes, and Indianapolis went 4-3. So the record could be better. Then again, it could be worse.
No. 9. Thou shalt not squander the many good things that have happened this season.
Think about it. The first win in Green Bay in 28 years. The first 100-yard rushing game and first kickoff return for a touchdown since 2012. In a season where a number of outcomes have been decided by the malfunctions of kickers, Adam Vinatieri's field-goal streak is an NFL record 44 and counting. Be a shame for all that to go to waste.
No. 10. Thou shalt not neglect to have the A game ready for the final three-game stretch.
Vikings and Raiders and Jags, oh my. The two-game December road trip to Minnesota and Oakland has always looked ominous and badly timed, but the Colts can at least hope the formerly sizzling Vikings keep fading. They've lost three in a row. The Raiders, however, are rolling at 7-2. Probably good if the Colts don't absolutely need that game.
The best-case scenario probably is that it comes down to the final week, with a chance to clinch the division at home against Jacksonville on New Year's Day. It'd be like a bowl game. Win that one, go to the playoffs, and all early-season sins would be forgiven. But there are a lot of commandments to obey between now and then.•
__________
Lopresti is a lifelong resident of Richmond and a graduate of Ball State University. He was a columnist for USA Today and Gannett newspapers for 31 years; he covered 34 Final Fours, 30 Super Bowls, 32 World Series and 16 Olympics. His column appears weekly. He can be reached at mlopresti@ibj.com.
Please enable JavaScript to view this content.