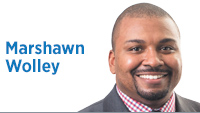 I woke up on Nov. 9 and the world was still here—as were my persistent interests. I am not naïve. I am aware of the nativism, sexism, racism, homophobia and xenophobia that were exhibited in this year's presidential election cycle. I've yet to vote for the perfect candidate but all the presidential candidates were deeply flawed.
The Republican Party has not been a recent ally to black interests at the national level—at times refusing even to meet with black media locally and at the state level. The national Democratic Party at best has been an imperfect friend—last year, the Indiana Democratic Party arrogantly threatened to send voting report cards. While I recognize the shock and the feelings of anxiety in a divided nation, what are we to do?
It isn't as if we expected all our problems to go away because of a new election. After all, in the black community, we experienced the zenith of black political aspirations with the election of President Obama—and yet our problems persist. We recognize the limitations of electoral politics and the macabre genius of the writers of the Constitution, which devised an institution with checks and balances built for stability—but one that privileges whiteness and maleness and wealth.
But women of all races and ethnicities voted for the first female presidential candidate on Nov. 8. My voting is one of the wildest dreams of American slaves. Latinos awoke as a political force to be reckoned with in future election cycles. Pundits spoke about the Asian vote. In this election cycle, Muslim parents challenged a presidential candidate for not respecting the ultimate sacrifice of their son, who fought and died protecting Americans in a post-9/11 world.
The irony is that this was the most diverse electorate in U.S. history. But white people's problems persist, too.
The St. Louis Federal Reserve, as of October 2016, has documented a 20-year dramatic decline for white male labor force participation from 88 percent to 72 percent. The Pew Research Center documents that white women earn 82 percent of white men's earning. White working-class people shouldn't be forgotten by either political party and this election cycle in a way is a reminder that we are all in this together.
While I'm curious about the 12 percent of the black community that voted for Trump, it is also actually problematic that 88 percent of any community would vote for one party over another. But the reality is that President-elect Trump gained in every racial category over the Republican in the 2012 presidential election, with 18-29 year olds and with people making under $50,000, and even self-described Democrats, according to New York Times exit polls. That is quite the potential coalition if you are interested in the issues a social justice agenda addresses, like criminal justice and education reform.
Now is the time for policy innovators—individuals who can look soberly at political realities and pragmatically—to develop coalitions based on the social benefit derived from shared interests at the local, state and national level. The pragmatism of framing issues broadly seems to be the winning formula given the new political landscape and the limits of electoral politics.
So, I'm hoping to continue to wake up to a world that is still here. I'm hopeful that I will find new partners on shared problems that persist. While I will continue to challenge all the hateful "isms" and "phobias," I've got no permanent enemies—only persistent interests.•
__________
Wolley is a lecturer at the School of Public and Environmental Affairs at IUPUI.Send comments to ibjedit@ibj.com.
Please enable JavaScript to view this content.