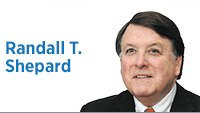 Here's a way of thinking about how to build an even better Indiana through civic leadership: Use the governor's power of appointment for scores of state commissions to lift up young and diverse community leaders.
The transition team named by Gov.-elect Eric Holcomb represents an eclectic assembly of genuine doers from a good many fields of endeavor and from a healthy geographic and demographic view. They will be front and center in helping Eric Holcomb and Lt. Gov.-elect Suzanne Crouch launch the new administration.
In announcing the transition team, Holcomb declared his ambition to "start moving toward taking Indiana to the next level" and, the not-for-profit being created for transition and inauguration tasks is called Next Level Indiana Inc.
A central strategy in achieving this ambition should include empowering cadres of young trailblazers.
This became ever more evident when SPEA's Public Policy Institute recently recruited leaders from many walks of life to think about Indiana's future. Engaged in discussion through three commissions based on their experience in urban, rural and midsize communities, these 50 or so leaders examined what we might do to assure what they called "Thriving Communities, Thriving State."
They saw three elements of the work at hand: education and workforce development, improving quality of life and place, and expanding leadership and engagement.
Valuing the importance of expanding leadership, the commissions began to outline approaches that would make it happen: Expanding participation in current civic organizations; structuring non-traditional opportunities to participate, like open community forums and social media; engaging local community foundations in supporting leadership-development activities.
In describing these and other avenues, commission members often used phrases like, "Create more intentional efforts" and "Be more intentional about developing leadership pipelines."
That thought could be useful to the transition team and the new administration in respect to one of the gubernatorial powers least talked about during elections: appointing people to the scores of boards and commissions that oversee state government and state institutions. There must be at least several thousand people appointed by the governor, the lieutenant governor, the superintendent of public instruction and other officeholders.
These appointments involve citizens in lending energy and innovation to all sorts of initiatives, including regulating utilities, implementing economic development plans, supervising agencies that care for children, overseeing public education and higher education, regulating and developing professional licensing, advancing the arts, and protecting civil rights. It's a comprehensive list indeed.
Agency directors and the staff of officeholders, especially the governor's staff, are the front line in identifying and recruiting potential appointees. It is a massive undertaking. The two most prominent features of this vetting are talent (Is this someone with knowledge of the field?) and inclusiveness (Have we reached out to assure a diverse group of appointees?).
In the course of the con-versations for "Thriving Communities," it became apparent that we might add another purpose: using state board appointments to give young people a chance to develop into leaders who will push us to the "next level."
In announcing his transition team, Holcomb declared his commitment to diversity and said he was excited that "over the course of the last 106 days, I've met a lot of new faces and a lot of energy and intellect we intend to incorporate."
It could turn out that doing so will be one of his most important contributions to Indiana's future.•
__________
Shepard, formerly Indiana chief justice, now serves as senior judge and teaches law. Send comments on this column to ibjedit@ibj.com.
Please enable JavaScript to view this content.