Even after a string of acquisitions, Dow AgroSciences is a bit player in the seed business.
But the new genetically
modified corn it developed with St. Louis-based giant Monsanto Co. finally provides the breakthrough product that could grow
its seed sales substantially.
Dow and Monsanto announced July 20 that SmartStax corn could improve crop yields
as much as 10 percent—a particularly large leap forward—by protecting crops better against herbicides and bugs.
Also, the U.S. Environmental Protection Agency and its counterpart in Canada said farmers could plant SmartStax seed on nearly
all their land. Typically farmers have to plant conventional seed mixed with genetically modified seed to guard against insects
becoming resistant to the genetically modified seed.
Extra yield means a higher price and extra acres mean higher
sales. Analysts predict the new SmartStax corn seed could peak at $6.6 billion in sales for the two companies by 2015. The
companies will launch SmartStax next year.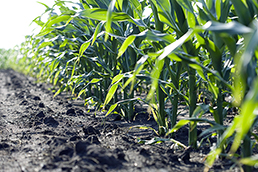 Dow Agro will sell genetically modified seed. (Photo Courtesy Dow AgroSciences)
The lion's
share of sales would go to Monsanto, of course, which dominates the seed business. It had $6.4 billion in sales of all seeds
last year, according to UBS research. Indianapolis-based Dow AgroSciences had just $440 million in seed sales.
The new technology won't help Dow take sales from Monsanto. But Dow could steal market share from other seed companies,
including Delaware-based DuPont Co., Switzerland-based Syngenta AG and Germany-based Bayer AG, whose combined sales were $7
billion last year.
Dow has acquired 11 seed companies in the past two years to build a distribution network for
SmartStax, Dow officials told Bloomberg News.
SmartStax combines eight genetically modified traits, which makes
it deadly for bugs and harder for them to develop resistance. Dow and Monsanto announced their joint development of SmartStax
in 2007.
Analysts said the SmartStax technology gives Monsanto and Dow a two- to four-year head start over competitors.
DuPont's Pioneer unit is developing a similar technology called AcreMax 2, but it is not ready for market.
Dow AgroSciences is a subsidiary of Michigan-based Dow Chemical Co.
Please enable JavaScript to view this content.