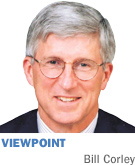 If you were looking for an excellent resource for a company's vision and values statement, just read the following excerpts from Wells Fargo's "The Vision and Values" publication:
"Regardless of our growing size, scope, and reach, our common vision and distinct values form the fabric that holds us together wherever we are, whatever we do."
"Our vision:
"We want to satisfy our customers' financial needs and help them succeed financially. … It's about building lifelong relationships one customer at a time."
"Our values:
"Our values should guide every conversation, decision, and interaction. Our values should anchor every product and service we provide and every channel we operate. If we can't link what we do to one of our values, we should ask ourselves why we're doing it. It's that simple."
"We have five primary values …
• "People as a competitive advantage"
"Our team members are our most important constituents because they're the single most important influence on our customers."
• "Ethics"
"Our ethics are the sum of all the decisions each of us makes every day."
• "What's right for customers"
"Our customers are our friends. We treat them as our guests. We want them to be successful."
• "Diversity and inclusion"
"We want to build and sustain a diverse and inclusive culture for all Wells Fargo team members … ."
• "Leadership"
"We're all called to be leaders. We all have the responsibility to be the link between the vision of Wells Fargo and our customers."
My question from all this wonderful wording for vision and values: What difference did the words make?
The culture of an organization is determined by the cumulative effect of (1) leaders and managers' actions that demonstrate the values, (2) what financial and non-financial rewards are provided to managers and employees within the organization, (3) who is promoted within the organization and (4) the consistency of the decisions made by leaders and managers throughout the organization that reflect the principles that are measured and rewarded.
Therefore, you must go deep within an organization to assess the alignment of many management and leadership processes and systems that are maintained to form a consistent culture.
The failures at Wells Fargo might provide a good time for you to reflect on leadership and management actions versus the stated values of your corporation.
• Do my actions and decisions reflect clearly the values that we measure and respect?
• Are the values of the organization clearly defined and measured? One word for each value doesn't make sense; define the values for all employees.
• Do the actions of your managers and supervisors support the values and measurement of the organization?
• Do your employees feel psychologically safe to speak up, to ask a clarifying question, seek feedback, support a mistake, or suggest a better way?
Maybe we all should heed the advice of business consultant Jim Collins: "More often than once in a while, we need to 'dust off' our values and ask ourselves if we're truly living in concert with them."
Collins' test for a value being core is that you're willing to take a financial hit to live it. Would you?
"Look over your values," he said, "and see how bulletproof they are and if there's something you need to correct in your business to better align with them."•
__________
Bill Corley is retired CEO at Community Health Network and now does leadership coaching. He can be reached at bcorley@ihsconsultinggroup.com.
Please enable JavaScript to view this content.