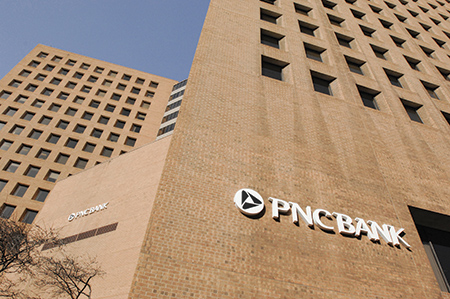 Community banks have aggressively grown deposits in the Indianapolis market over the past few years, according to recently released federal data, although heavyweights Chase Bank and PNC Bank between them still have more than a 40 percent market share.
The top five players—all major regional or national banks—held more than 62 percent of the $45 billion deposit market as of June 30, according to the Federal Deposit Insurance Corp.
But their stranglehold is showing signs of erosion as smaller banks—some new to Indianapolis—see their market shares swell—emboldening them to continue their growth ambitions here.
One of the biggest gainers is Carmel-based Merchants Bank of Indiana, which had 0.2 percent of the area's market share when it planted its flag here in 2009. It now has almost 4 percent, according to the Federal Deposit Insurance Corp., or a cool $1.7 billion in deposits.
Only six of the 45 banks in Indianapolis have a bigger share.
Warsaw-based Lake City Bank scooped up $58 million in deposits when it entered Indianapolis in 2012. Lake City, which has raised its profile in part by opening four large branches, now has $537 million. Other smaller players scarfing up market share include Muncie-based First Merchants Bank and Whiting-based Centier Bank.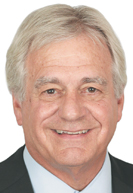 Stitle
"If they're going to be in Indiana, the banks want to be where the people are," said SmithAmundsen partner and former bank executive Steve Stitle, speaking about the Indianapolis market.
"It's that simple. So what they're trying to do is pick away at market share, either by being aggressive or having bricks and mortar in the market," Stitle said.
Taking the biggest hit among big banks in recent years is PNC, which saw its share of deposits fall from 22.1 percent in 2011 to 16.5 percent this year. Actual deposits have fallen, too, going from $8.1 billion in 2015 to $7.4 billion this year.
Pittsburgh-based PNC entered the market in 2008 by buying Cleveland-based National City Bank, which was ailing and under pressure from regulators to find a buyer. PNC would not make an executive available for an interview, but in an emailed statement, spokeswoman Marcey Zweibel said deposits, "which can fluctuate significantly from one day to the next," aren't the bank's only measure of success.
"We care about our customers' experience first and foremost," she said.
Some banking observers said PNC's local deposit-share decline might not be a big deal. They said it might merely reflect that the institution has not aggressively chased deposits because it has ample cash available to fund loans and satisfy other capital needs.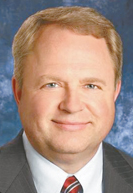 Renninger
But it also could be the result of branch closures and key employee departures that followed the National City purchase, Renninger & Associates bank consultant Mike Renninger said. PNC closed 18 branches from 2009 to 2016, more than any bank with a top 10 market-share ranking.
"So what happens when the key executives of a company go to another company?" Renninger said, listing a few former National City executives who have taken top posts at other banks. "A lot of loyal customers follow."
Among the banks making the greatest headway in building market share was First Merchants, which decided nearly a decade ago that it wanted in on the Indianapolis market—especially the northern suburbs—a strategy it has achieved partly through acquisitions. It bought Plainfield-based Lincoln Bank for $77.3 million in 2009 and New Castle-based America Bank, which had been pursuing its own Indianapolis expansion, for $69 million in 2015.
First Merchants had $103 million in deposits in 2009, ranking No. 30, but now has $1.5 billion, ranking No. 10. It's been one of the few banks opening branches, adding 15 since 2009.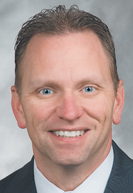 Lasley
"You're seeing these banks get more of an Indianapolis presence," said Rod Lasley with the Indiana Bankers Association. "And once they hit the market and people become familiar with them, they're able to make more local decisions and respond quicker."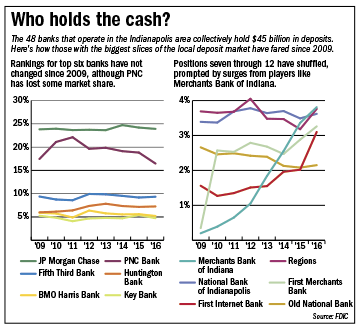 It's not just community banks growing market share. San Francisco-based Wells Fargo, which has had a commercial lending presence here since 2004, made its debut on the local deposit-holders list in 2014. At the time, it had $207 million in deposits, or 0.53 percent of the market, but by 2016 that number had tripled to $653 million, or 1.45 percent.
Wells wasn't able to make an official available for an interview before publication. In emailed remarks, a spokesman said those deposits aren't tied to any retail branches here, but rather three lines of business, including Wells Fargo Advisors.
"Our increase in deposits in the region between 2014 and 2016 was primarily due to an organizational change that moved funds from other parts of the region into the Indianapolis area," the spokesman said.
"A secondary reason for this increase was simply organic growth—we earned business from new customers and deepened our relationships with our existing ones."
Market shares have remained fairly steady for many banks in the market, including The National Bank of Indianapolis. It's the ninth-largest deposit holder, with $1.6 billion.
Mark Bruin, the chief banking officer there, said banks generally have been hungrier for loans than for deposits. But loan demand has been relatively soft in the years following the financial crisis.
He's expecting that to change in the coming years, but said his bank isn't likely to go on a growth binge.
"Our model has always been slow, steady growth. So we don't make acquisitions; we don't branch out into other markets," Bruin said.
"So you would see us grow at a slower rate than some of our competitors, and we're OK with that."•
Please enable JavaScript to view this content.