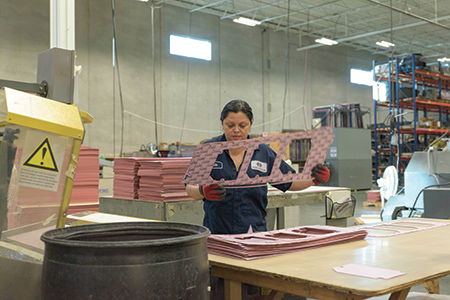 The impact of foreign trade is clear to Hoosier Gasket Vice President Oleg Gostomelsky.
Without it, 15 percent of his workforce would vanish.
"It's pretty straightforward," Gostomelsky deadpanned. "Twenty-one jobs here depend on foreign trade."
Indianapolis-based Hoosier Gasket Corp., which employs 140 here and makes gaskets for just about anything with a motor, derives 15 percent of its business from exports.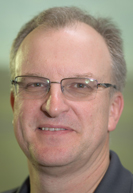 Gostomelsky
"If that 15 percent slice of our business disappears, so do those jobs," Gostomelsky said. "It's the same for many Indiana manufacturers. So, yes, foreign trade is important. Very important. For manufacturers, for employees—and the communities where they work and live."
That's why Gostomelsky and others are paying attention to President-elect Donald Trump, who captured the nation's attention with his tough talk on a number of issues. But it was his stance on foreign trade that pushed up the antenna—and in some cases rang alarm bells—of U.S. and Indiana manufacturers.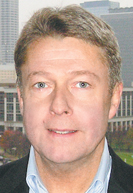 Reinke
"During the campaign, Donald Trump had many not-very-nice things to say about trade and free trade," said Andrew Reinke, president of Foreign Targets Inc., an Indianapolis-based export development company. "He said some things that make people who favor free trade shudder."
Trump called the 1993 North American Free Trade Agreement "the worst trade deal ever approved in this country"; he lampooned the proposed Trans-Pacific Partnership; and in general vowed to rework, overhaul or tighten a bevy oft rade deals.
His trade deals, Trump said, will put the U.S. economy on better footing. Manufacturers aren't so sure.
"What Indiana manufacturers are fearful of is the unknown," Reinke said. "Donald Trump has never been in office and he has no history of voting for or against trade deals. The only thing we have to go on is what he said on the campaign trail—and that was pretty harsh."
Officials for Cummins Inc., the Columbus-based maker of diesel engines, say the negative talk about trade during the presidential campaign was prompted by a myth that free trade is bad for domestic companies.
The numbers seem to contradict that notion.
The value of exported goods from Indiana rose from $22.9 billion in 2009 to a record $35.6 billion in 2014 before tailing off a bit to just below $34 billion last year, according to the U.S. Census Bureau. During the same time, the number of Indiana manufacturing jobs has increased 21 percent, to 515,100.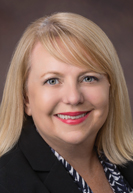 Van Way
"Cummins for sure thinks free and fair trade is good. It's good for our country and it's good for our employees," said Cathy Van Way, Cummins executive director of government relations. "We grow because we have access to global markets. Ninety-five percent of the world's consumers do not live in the U.S."
While Van Way said Cummins officials have their eye on Trump's trade policies, they're in no rush to judgment.
"We're in the same position as a lot of other [manufacturers]," she said. "We're waiting with interest to see how it all unfolds."
Though Trump seems to have softened his stance on NAFTA and potential trade sanctions since his victory over Democrat Hillary Clinton, manufacturers still fear several possibilities, including an import tax increase, which could have a double whammy. First, it would likely increase the costs of parts and materials manufacturers get from overseas. And it could trigger other nations to raise taxes on American imports, which could stifle U.S. exports.
A trade war with any number of key markets in South or Central America, Asia or Europe could have "a devastating impact" on local manufacturers, Reinke said.
Stark contrast
Several Indiana manufacturers are optimistic that Trump's actual trade policies will be less bombastic than his campaign rhetoric, and are hopeful that his business experience will lead him to see that global free trade has far more positives than negatives.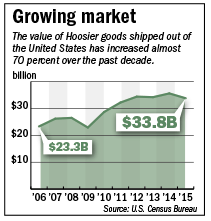 Manufacturers generally have more good than bad to say about NAFTA. And even the TPP—which both Trump and Clinton flatly opposed during their campaigns—finds favor with many manufacturers.
Several local manufacturers said the TPP is a modern trade agreement that—unlike many past deals—addresses matters like data servers and ecommerce. They pointed out that it also has the potential to lower taxes on goods flowing between the United States and Japan.
None of the local manufacturers IBJ interviewed favor raising taxes on American companies who make their products in Mexico and ship them back to the United States, as Trump suggested during his campaign. They deride the idea as a way of artificially inflating the cost of goods that flow into this country while protecting mostly lower-skill jobs.
Some American consumers and labor unions—especially those hurt by recent plant closures—differ. Trump drew kudos from workers when he repeatedly used Carrier Corp.'s decision to move jobs from Indiana to Mexico as an example of the type of job migration he intends to prevent.
While the nation's trade deals have a huge impact on all U.S. manufacturers, Indiana has more at stake than most states. Indiana's economic output—or gross domestic product—ranks 16th nationwide, but its dependency on exports ranks eighth, according to the World Institute for Strategic Economic Research.
"It can't be underestimated how critical foreign markets are for Indiana manufacturers," Reinke said. "The halting of free trade is a net loss for Indiana manufacturers. There's no doubt about that."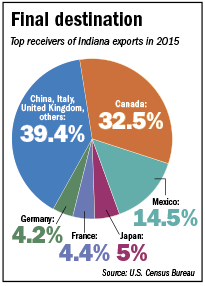 Gostomelsky, a member of the Indiana District Export Council, is hopeful Trump's tough talk won't lead to hasty actions.
"We're not overly concerned right now," he said. "All we want are trade deals that provide a level playing field. If we have that, I think Indiana manufacturers will do well. All things being equal, we know we can be competitive. We're just waiting to see what happens under this new administration."
Diminishing free trade could have even more dire consequences for some other Indiana manufacturers than for Hoosier Gasket.
Cummins, for example, relies on exports for about half its business, company officials said. Cummins has 55,000 employees, 10,000 of them in Indiana.
While local manufacturers said they applaud efforts to crack down on such practices as "dumping"—allowing foreign countries to sell products here below cost—and they think trade deals should address workers' rights and environmental issues in foreign markets, they say free trade is overwhelmingly positive for the local economy.
"We're going to make our case no matter who is in the White House or on Capitol Hill. It doesn't change what we think and what we're going to advocate for," Van Way said. "We need to focus on educating people on trade."
And it's not just manufacturers that would take a hit if free trade were constrained.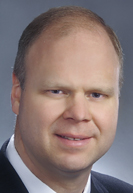 Will
"The companies that are really nervous are the companies that run the warehouses and logistics centers," said Matthew Will, a professor of finance at the University of Indianapolis. "If you dry up the flow of goods here in the crossroads of America … we're a huge logistics center, one of the biggest nationally … that would wreak havoc here."
Constrained free trade would affect the state's trucking and rail companies, its ports and air freight business. "All these are robust industries here," he said.
Skewed picture
Trump's talk about the Indianapolis Carrier plant and others that have moved or planned to move jobs offshore has helped paint a skewed picture of global trade, local manufacturers and economists said.
"I don't know how the talk on trade went so negative," said Anson Soderbery, assistant professor of economics at the Krannert School of Management at Purdue University. "Look at the numbers. Free trade has been good for Indiana."
"The negatives get so much attention because they're stark and the media often focuses on the negative," he added.
As for the Carrier jobs moving to Mexico, Soderbery said, "That's to be expected."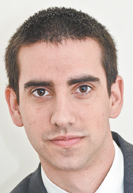 Soderbery
"That's part of the reallocation process," he said. "That contraction is much smaller than all the good that comes from free trade."
Soderbery questioned the wisdom of protecting low-skill jobs at the expense of limiting product offerings in the United States and raising the prices on foreign and domestic goods for all Americans.
Free trade, he said, allows countries to focus on areas where they excel.
"The fundamental point is, free trade allows the U.S.—and other countries—to move to what it's good at. Low-skill work moves to Mexico and high-skill manufacturing jobs move to the U.S.," he said. "Yes, we lost the Carrier plant. But without free trade, do we have the Subaru plant in Lafayette, the Toyota plant in Princeton, or the Honda plant in Greensburg?"•
Please enable JavaScript to view this content.