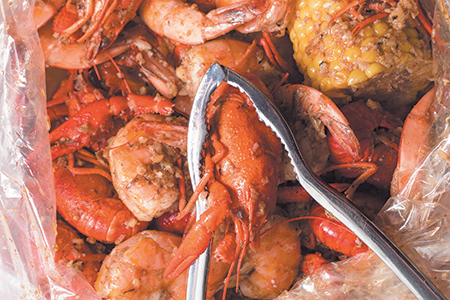 Sloppiness is not inherently a bad thing when it comes to dining.
I'm not talking about the accidental dribbling of some red sauce on your tie during a meal at an Italian restaurant. I'm talking about true, "Here's a bib, you're going to need it" sloppiness.
You get a bib and gloves at The Boiling (1 N. Mer-idian St., 986-6666), the new restaurant taking over the basement location formerly occupied by the woefully misconceived Bacon Legs & Turntables.
Here's how The Boiling works.
You pick a main item—shrimp, snow crab legs, mussels, etc. You select a sauce—Cajun, garlic, butter, lemon butter, or the Boiling Special, which combines them all. And you identify a desired spice level. The results are tossed together, boiled and presented on the table still in a bag, along with a small piece of corn on the cob and a medium potato. At that point, it's time to tie on the bib, put on the gloves, and dig in.
There are appetizers, of course, although ours annoyingly arrived concurrent with the main event. Oysters (6 for $12) were what you'd expect from $2 oysters, no more, no less, while the Calamari Basket ($12) could have accurately been labeled "Calamari for Beginners." It consisted of remarkably uniform rings of seafood with a crunchy spiced breading but no hint of the ocean beasts and their natural irregularities. Kudos, though, for the unexpected addition of Cajun Fries, which proved outstanding, with an almost mashed-potato core and just-right exterior crunch.
While the table was covered with butcher paper, there was no invitation—which I've received in similar restaurants in other cities—to dump the contents of the entrees out for sharing as in an old-fashioned boil. Instead, the goods had to be hunted down inside their bags, accentuating the awkwardness. Newcomers are on their own to figure out how to crack and slurp with the given utensils.
In an order of Blue Crab ($12), we found three crustaceans even though the menu said two. Unfortunately, none of the trio yielded enough meat—and what could be forked out wasn't flavorful enough—to be worth the bother.
Better was the Shrimp/Crawfish Combo ($30), although it seemed chintzy to still offer only the tiny corn piece and single potato. And it would have been nice to have some bread to soak up some of the sauce. (We could have added Steamed Rice for $5).
The shrimp—heads off but still requiring peeling—were plentiful, though, and some of the Cajun sauce we ordered carried over to the Crawfish, where the flavor was more influential and probably better than the garlic butter we had ordered for our crawfish. Devouring crawfish requires a lot more slurping and sucking. It's more about the juices than the meat. Paper boats serve as trays, and a bucket on the table minimizes the shrapnel buildup.
The Bacon Legs & Turntables decor lives on, with its bright would-be funkiness now thinly dressed up with a few nautical details. Given the semi-fancy nature—leaning far more toward nightclub than fisherman's hut—first-timers would be justified in being a little disconcerted as the mess on their table builds and cracked crab shells fly.
Serving dinner only during the week and with a concept best experienced with a full crew, it will be interesting to see if The Boiling catches on.•
—Lou Harry
Please enable JavaScript to view this content.