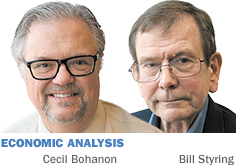 A month ago, we warned that this election would determine the future of health care in the United States, and so it has. "Repeal and replace Obamacare (Affordable Care Act)" is now the promise. Here's the primer on what was, is, and may be.
What was the original problem?
Before the ACA, about 60 percent of us received health insurance through our place of employment. The elderly or poor got Medicare or Medicaid. Some bought individual policies. Roughly 45 million had no coverage.
Who were these uninsured?
People with wildly different circumstances. Perhaps 6 million were Medicaid-eligible but didn't bother to apply. Some were illegal aliens. The "bulletproof" young thought they had better uses for their money. Many of the remainder were those with expensive pre-existing conditions who couldn't pay extremely high premiums or couldn't find insurance at any price.
What did the ACA actually accomplish?
It insured 22 million. Of those, about half became eligible for Medicaid by raising the income eligibility level to 138 percent of poverty in states that accepted the deal. The other half of the newly insured were individuals, including those with pre-existing conditions, who bought policies on state or federally run health care exchanges. Most of those who bought on the exchange received a subsidy from the government to pay their premium.
Why the drive to repeal and replace?
Lots of reasons. Most visible is the collapse of the exchanges. The risk pool doesn't work. Insurers can't charge more for those with a poor medical history and have only limited ability to vary premiums by age or sex. Sorry, folks, but you can't legislate away physiology. Older people tend to be sicker, and childbirth is expensive. Insurers lost money and stopped writing insurance in some places. Premiums and deductibles for the healthy rose to levels they rejected. The young, when spending their own money and not the government's, recognized a bad insurance deal when they saw it.
Do the Republicans have a plan?
Sort of, but nothing final. We venture some predictions. Allowing the sale of insurance policies across state lines is low-hanging fruit. More competition is always good for consumers. Medicaid will be block-granted to the states. You can bet Vice President-Elect Pence will tout Indiana's HIP 2.0 as a model. The exchanges will be scrapped for some form of general premium support for health savings accounts. Two big questions remain: Will Congress push for national tort reform, which would better shield doctors from malpractice lawsuits but incur the wrath of the trial lawyers? Even thornier is how to handle pre-existing conditions. Our bet is a separate high-risk pool.
Stay tuned.•
__________
Bohanon is a professor of economics at Ball State University. Styring is an economist and independent researcher. Both also blog at INforefront.com. Send comments to ibjedit@ibj.com.
Please enable JavaScript to view this content.