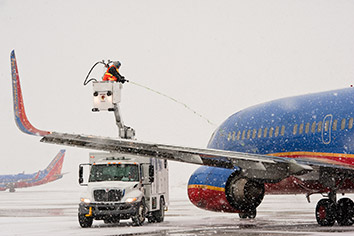 The Indianapolis International Airport says it might end up handling more weather-related diversions this winter, thanks to new federal standards for evaluating runway conditions.
The new standards, developed by the Federal Aviation Administration, are known as the Takeoff and Landing Performance Assessment, or TALPA for short. In analyzing whether it's safe to land when water, snow, ice or other hazards are on the runway, TALPA relies more on airplane-specific performance data and less on the pilot's judgment.
TALPA went into effect Oct. 1, replacing a previous system of assessing runway conditions.
For Indianapolis, this could mean more flights diverted here from other airports once winter weather hits. But since TALPA is so new, no one knows quite what to expect, says Mike Medvescek, the Indianapolis Airport Authority's senior director of operations and public safety.
"There's a lot of conflicting comments from airports about how this may be a problem for them," Medvescek said.
"Every airport's kind of waiting to see how this is going to work out," he said.
From January through the end of September, Indianapolis International Airport handled about 160 flights that were diverted here from other facilities. About 90 percent of those diversions were weather-related, Medvescek said, although "weather" can include fog, storms or other conditions that are not winter-specific.
Medvescek said he expects more diversions this winter because of TALPA, but he couldn't predict how many. 
Likewise, he said, it's difficult to say whether TALPA will have much effect on pre-scheduled air traffic into and out of the airport.
"We're going to find out when the weather changes," he said.
Indianapolis is a diversion facility for Chicago's O'Hare International Airport and Midway International Airport, Medvescek said, and it recently was added as a diversion airport for Detroit Metropolitan Airport.
Commercial flight diversions are determined by aircraft flight crew, their airline dispatchers and FAA air traffic controllers, said FAA spokesman Tony Molinaro.
"The airlines' pilots and airline dispatchers will determine the most appropriate airport for a diversion depending on ground services available, runway length, airport landing systems available, distance, weather, etc.," Molinaro wrote in an email to IBJ.
Medvescek said Indianapolis International Airport is well-positioned to handle adverse weather.
Indianapolis has three runways, two of which are at least 10,000. A longer runway, Medvescek said, means pilots have more room for braking when landing in slippery conditions. And Indianapolis' runways are situated so that pilots can take best advantage of wind conditions, he said.
In comparison, O'Hare has eight runways, two of which are at least 10,000 feet. Midway's four runways range from 5,141 to 6,522 feet. Three of Detroit's six runways are at least 10,000 feet.
The FAA developed TALPA in response to a 2005 accident involving a Southwest airplane that was attempting to land during a snowstorm at Midway. The plane overran the runway and ended up on a city street. 
Some of Indiana's other airports say they don't expect TALPA to affect their operations.
Scott Hinderman, executive director of airports at the Fort Wayne-Allen County Airport Authority, said he "does not anticipate any impact of operations because of the new TALPA program."
Fort Wayne handles "a fair amount of diversions" from both Detroit and O'Hare during inclement weather, Hinderman said, but his facility does not keep records of the number of diverted aircraft it receives annually.
Fort Wayne has two runways, one of which is nearly 12,000 feet long.
Nate Hahn, operations manager at Evansville Vanderburgh Airport Authority, said he doesn't expect any "noticeable negative impact" from TALPA. Evansville Regional Airport's two runways are 6,286 and 8,021 feet long.
"Hopefully, TALPA improves the conversation between airports, pilots and controllers as we'll all be working off of the same sheet of music, and that in turn will lessen delays, diversions and cancellations. Only time will tell, though," Hahn said in an email to IBJ.
If Indianapolis does end up receiving more diverted flights this winter, Medvescek said, the facility can handle it.
The airport has snow/ice-removing equipment that can clear a runway in 12 minutes, he said. So even if the airport has to clear extra space this season to accommodate diverted planes, crews are ready.
"We're well-prepared here to handle it," he said.
 
Please enable JavaScript to view this content.