A recently proposed housing development could be the first to border Westfield's Grand Park Sports Campus.
Indianapolis-based Platinum Properties Management Co. LLC introduced plans for the 265-acre mixed use project, known as Drexler Woods, earlier this month to the Westfield City Council.
It would be located between Six Points Road and Horton Road, north of 191st Street (click on map below for larger view). The 800-acre upscale Chatham Hills golf community being developed by Henke Development Group would be east of the community.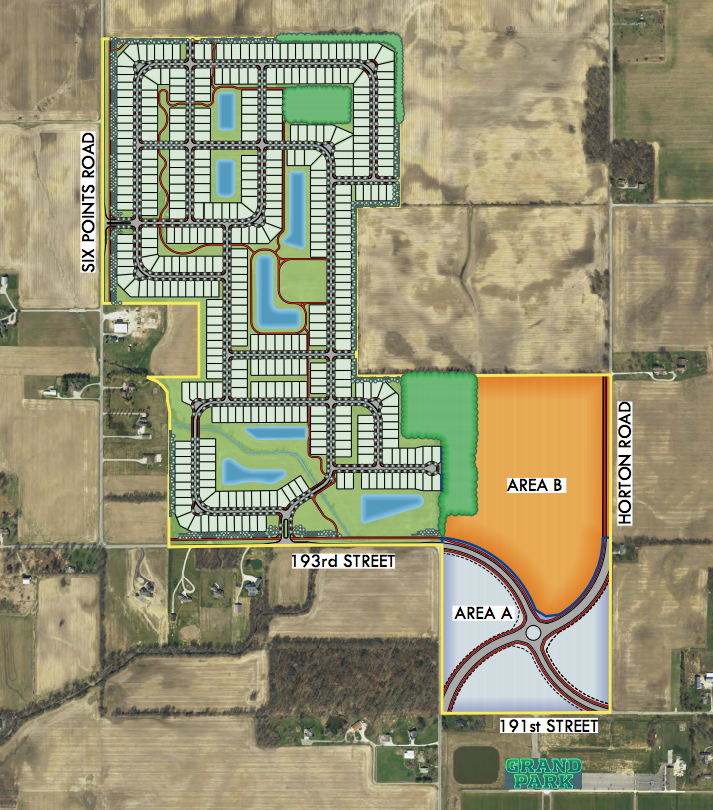 Drexler Woods would include 490 single-family homes spread across 185 acres, along with 47 acres designated for attached residential units. About 32 acres devoted to business use would be along the southern edge of the property, closest to 400-acre Grand Park, which borders 191st Street.
The attached housing would be located to the north of the commercial section. All of the units would be for sale, and no apartments would be permitted.
The detached single-family housing area on the northern and western portions of the property would be designed for active adults and would include "a large, multimillion-dollar" amenity center and trail network, according to documents filed with the city. The trails would connect the different sections of the development and connect the area to Grand Park.
Platinum Properties is requesting to rezone the property for the development. The company would provide the city the necessary right of way to connect Horton Road and Spring Mill Road and 193rd and 191st streets.
Paul Rioux, president of Platinum Properties, told IBJ that details were still being worked out in terms of what the housing would look like, which would determine the cost. He said they are targeting adults ages 55 and older.
The Westfield Plan Commission is expected to discuss the proposal at its meeting Monday. No vote is expected to be taken.
Platinum Properties has been developing residential communities in Westfield for 20 years. Some of the company's projects include Andover, Maple Villas and Mulberry Farms.
Please enable JavaScript to view this content.