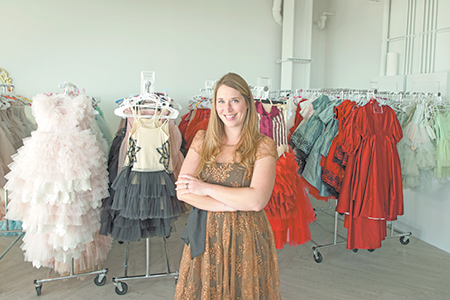 Around this time two years ago, Fishers resident Emma Hostetter was a stay-at-home mom who had put her career as a physician on pause to take care of her young daughter. Then she bootstrapped a non-medical online business that went on to generate $100,000 in revenue in its first year—without an actual website.
The business is The Borrowed Boutique, and it's a rental service for high-end children's special-occasion clothing. The 35-year-old founder and CEO started renting pricey girls' dresses through a private Facebook group page in early 2015; sales have since swelled from a few thousand dollars a month to about $15,000 a month.
Hostetter has a website now, but it doesn't yet have an e-commerce component. So customers search for items on Facebook, and she invoices them through PayPal.
But that's about to change. The Borrowed Boutique is nearing the end of a months-long project to infuse software into what has so far been a labor-intensive operation.
"We're rolling out our custom app in the next couple of weeks, which is going to make my life so much better," said Hostetter, whose business has thousands of clothing articles and 8,000 group members on Facebook.
"Everything has been manual, which is a challenge. I have a conversation with each and every customer, and process every single order … so it's not a little deal."
The firm leading the tech overhaul for The Borrowed Boutique is Sticksnleaves, a Fishers-based development and consulting agency. Among other tasks, it's building a custom inventory-management system (Hostetter couldn't find suitable off-the-shelf software) and e-commerce tools. 
Besides technology, Hostetter has been enhancing other parts of her young company to take it into higher gear. A few weeks ago, she moved operations from her home to leased space in The Edge office building in Fishers. She's made a few part-time hires and expects to make more. And she's exploring raising venture capital.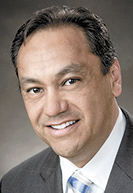 Moralez
"I was really impressed with her," said Oscar Moralez of venture investing group Vision Tech Partners, who was a judge at an Indiana Conference for Women event in October where Hostetter pitched her business. "She didn't just have a great idea, but is working hard and doing things that entrepreneurs have to do to be successful."
The two plan to meet in January.
The Borrowed Boutique customers are a mix of parents seeking high-end kids' clothes for special events and photographers after certain looks for theme-based shoots—angels, fairy-tale characters, vintage, etc.
Most of the inventory is for girls, through size 16, but some boys' clothes are also available.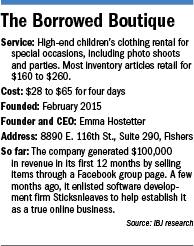 Borrowed Boutique pieces mostly retail for $160 to $260, but the company rents them for $28 to $65 for four days. An eight-day rental costs 50 percent more.
Hostetter has partnerships with apparel companies that allow her to purchase the clothes wholesale, although she has some rare items she had to buy at retail. No matter the case, she said, her customers appreciate being able to temporarily get their hands on big-ticket items they might use only once.
"It means they don't have the hassle, if they did want to resell, to worry about trying to get their money back," Hostetter said. "And most parents don't want to spend a lot of money on their kids' clothes because they're going to outgrow them really quickly."
The Detroit-area native got her medical degree from the University of Toledo Medical Center in 2007 and completed her residency at Penn State University. While practicing as a family physician in Pennsylvania, she earned a master's of public health from Johns Hopkins University with an emphasis on women's and children's health and international health.
Hostetter moved to Indiana in 2012 after her husband, a urologist, found work here. She gave birth prematurely shortly thereafter, and opted to take care of her daughter full time.
Her longtime interest in theater and storytelling got her collecting dresses for her daughter, and she once mulled opening a boutique shop to sell the dresses her daughter had outgrown. But her husband, now her business adviser, suggested she consider renting them.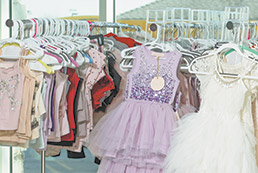 Borrowed Boutique attracts parents who want to avoid paying hundreds of dollars to buy clothing their children soon will outgrow. Hostetter's rentals run $28 to $65 for four days.
(IBJ photo/Eric Learned)
After discovering the "cult following" behind some of her clothing articles, she started the Facebook group, got a business license, and began generating cash.
"I don't know that I was surprised," she said about the mid-triple-digit sales growth she's seeing lately. "My thought was 'all or nothing' in the sense that I want this to be something that's really big and has the potential to scale or it's not really worth doing."
But she knew she couldn't expand the business without technology. She needed not only a way for people to make transactions on the website, but also software that could track outgoing and incoming shipments, how many times an item had been worn, how late returns affected other scheduled orders, and more.
Hostetter tried to contract with a few software developers to build technology for the business, but it didn't go well. Then earlier this year, her website developer, Stephanie Wilson of locally based Whim & Proper, introduced her to Sticksnleaves.
It wasn't long before the principals of Sticksnleaves were at Hostetter's Fishers home amid scores of tutus and walled Post-It notes, trying to understand the complex business. Sticksnleaves expects to complete its work in the next few weeks.
"She already has grown so much on her own through social media," Wilson said. "But I think once we get her new website launched, things are going to expand tenfold and I can't wait to see that happen."
Hostetter said she's already mulling other ways to expand her business, including selling software to run such rental businesses. Also, most of her sales come from California, Texas and Florida, but she plans to increase local sales by allowing fittings, pickups and drop-offs.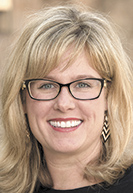 Cooper
There's also a philanthropic element to her business related to her background in women's health. Part of her profit is donated to protect girls from sexual exploitation and childhood prostitution.
Kristen Cooper, vice president of corporate communications at Sticksnleaves, said The Borrowed Boutique is among the most interesting companies it's worked with. She's eager to see whom Hostetter hires on her team as the business expands.
She called Hostetter a student of life, curious and highly coachable, and said her story so far demonstrates the power of a seemingly insignificant idea.
"Because of this one little problem of, 'What do we do with this dress?' she has been able to employ several people, hire a firm to build technology, rent space, and purchase more dresses," Cooper said.
"Emma is a great role model for entrepreneurs and for thinking about the future economy of Indiana."•
Please enable JavaScript to view this content.