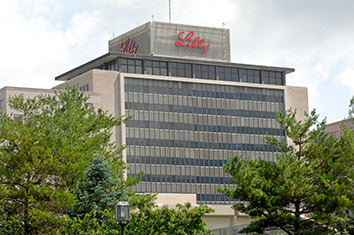 Eli Lilly and Co.'s top brass for years tempered expectations for the Alzheimer's treatment solanezumab—calling it a high-risk bet and emphasizing that the Indianapolis company's future did not hinge on a single molecule.
That all might be true, but it doesn't make the pain any less acute for the hundreds of Lilly employees who worked on the drug—or for the millions of patients who might have benefited had Lilly succeeded in bringing to market the world's first drug that slowed the debilitating disease.
Everyone now knows that's not going to happen, at least not with solanezumab, following the failure of a 2,100-person clinical trial that Lilly officials were hoping would demonstrate that the drug slowed the progression of Alzheimer's in patients with a mild form of the disease.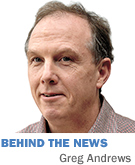 Lilly broke the bleak news to the world at 6:45 a.m. on the day before Thanksgiving, then immediately dispatched emails to the approximately 900 employees whose work touches Alzheimer's.
A few hours later, Lilly executives were on a conference call with Wall Street analysts. Incoming CEO Dave Ricks put it bluntly: "It's not going to be a disease-modifying therapy for mild patients, so that's heartbreaking."
Indeed, it all had a surreal feel, with employees reacting with the same range of emotions a death in the family might trigger, from sobbing to denial.
Vice President Phyllis Ferrell, Lilly's global Alzheimer's platform leader, was among about 20 statisticians, project leaders and other company personnel who got the news early.
"I was just numb from head to toe," said Ferrell, 44, who's been with Lilly 21 years. "It was kind of a this-can't-be-happening feeling—'This can't be true. I must be dreaming.'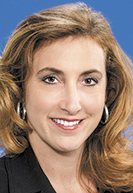 Ferrell
"Even the next morning, you woke up with a feeling of, 'This had to have been a bad dream.' Then you are laying there in bed saying, 'No, it really happened.'"
Ferrell said Lilly employees knew there were no guarantees. She noted that Phase 3 trials typically have an 80 percent likelihood of success—though the odds were dicier in this case, given that the pharmaceutical industry had weathered 15 straight failures on late-stage Alzheimer's trials since its last positive one.
"We knew that we weren't at that 80 percent. But I think we were all hopeful. I don't know what the number is that we thought—everybody probably had a different number in their head—but you can't do this kind of work and expect to fail," Ferrell said.
"You can't be planning a molecule with part of your brain reminding you that it might not work, right? You've got to be all-in to do this kind of work."
That reality applied to the more than 300 Lilly employees working on the science of Alzheimer's disease—a team divided between the Lilly Corporate Center on McCarty Street, the Lilly Technology Center on Kentucky Avenue, and an outpost in the United Kingdom—as well as the more than 300 employees who were gearing up to commercialize the drug.
Ferrell has had more time to process the disappointment than most of her colleagues. The raw data arrived on Sunday, Nov. 13, and it was soon apparent to the statisticians who began sifting through it that the drug had failed. She found out the next day.
Then it was a matter of waiting for the validated, official data. Lilly received that on Nov. 22, two days before Thanksgiving, then raced to get the news out.
"We did that because we had people that were planning on working over the Thanksgiving holiday doing submission documents, and none of us felt good about them doing that work over the holiday knowing full well it wasn't to be used," Ferrell said.
The next step is to study what went wrong—an effort that will help shape future Alzheimer's research—as well as to charge ahead with other Alzheimer's pipeline drugs.
"Lilly's business is based on science, and it's never a straight or easy path," CEO John Lechleiter and Ricks said in an open letter to the Indianapolis community after the results were announced. "But we refuse to give up."
Indeed, Lilly—which has been working on Alzheimer's nearly 30 years and invested some $3 billion in the field—has seven Alzheimer's medicines in various stages of development. Perhaps the most excitement surrounds AZD3293, which is being co-developed by Lilly and AstraZeneca PLC and recently was fast-tracked by the U.S. Food and Drug Administration.
AZD3293 is among an emerging class of Alzheimer's drugs known as BACE inhibitors, which act to prevent the formation of amyloids—proteins that build up in the brains of patients with Alzheimer's. Many scientists blame amyloids for the destruction of neurons that characterize the disease.
In contrast to that upstream approach, solanezumab targeted amyloids already in the brain, latching onto and isolating soluble forms.
A question for the solanezumab post-mortem will be whether the drug was targeting amyloids "early enough and hard enough," Ferrell said.
She added: "We're super, super excited about AZD3293 because we think it's a bigger hammer on amyloid."
Ferrell lost her father-in-law to Alzheimer's, and her father suffers from dementia—personal experiences that fuel her determination for a breakthrough.
"Someone who has to get up every day and face this disease, either because they're losing themselves or they're losing loved ones—they don't have the opportunity to quit, so we don't, either," she said.
"For those of us who really feel like this is a calling, you get right back up the next day, and you have to figure out what went wrong. Because in figuring out what went wrong, you have the ability to make it better the next time."•
Please enable JavaScript to view this content.