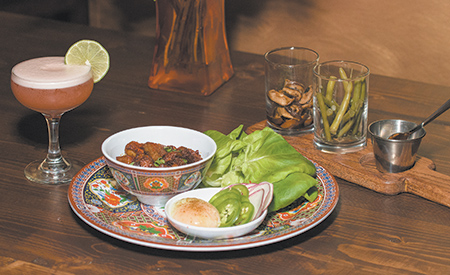 Once upon a time, the area just north of downtown between the inner loop and Fall Creek was a culinary question mark. With the rise of Goose: The Market, Tinker Street, Shoefly Public House and now LongBranch (2205 N. Delaware St., 317-602-6726), though, the neighborhood is on its way to becoming a true dining destination.
Investment in up-and-coming neighborhoods is tricky for restaurants. Without significant foot traffic or gigantic parking lots, there's a greater need to transform first-timers into repeaters. While welcoming those from outside the footprint is important, growing a neighborhood following is key.
For LongBranch, evidence of attention to that piece of the success puzzle is a separate takeout entrance on 22nd Street. It offers convenience for grabbing-and-going while not interfering with the dining experience of the sit-down set.
LongBranch's name doesn't hint at its creative cuisine. Where you might imagine rustic fare, the kitchen instead offers variations on Asian staples. We started with Egg Rolls (2 for $8) whose crackly exterior didn't get in the way of the moist monkfish within. For some egg rolls, dipping is mandatory. For these, however, the side dish of ginger scallion dashi was an option, not a requirement. Wakame Salad ($8) mixed vermicelli and seaweed with a rice wine vinaigrette that lubricated without soaking.
Pork Belly ($12) and General Tso ($15) each had mustard and mushrooms while the former added pickled beets and the latter pickled red onion. The pickled veggies each worked on their own and the mushrooms pleased our fungi-loving friends. They were easy to incorporate into the soy caramel-enhanced pork belly, which came with bibb lettuce, the leaves meant for creating mini-wraps but unable to hold much. How to incorporate the side items into the General Tso was less clear. The dish topped thick rice with sweetbreads and, while it came with a heat warning, it indexed just above mild. Tofu ($10) mixed the multi-purpose bean curd with small chunks of eggplant and miso.
Our only meh moment came with the dessert, a Peanut Butter Cookie ($3) with miso butter cream that was crumbly to a point of disintegration and didn't leave much of an impression.
The bar, which is open an hour later than the restaurant on most days, includes an array of signature cocktails ($7-$11), wines by the glass ($10) and bottle ($25), a lineup of 12 beers by the bottle/can, and a flexible lineup of drafts.•
—Lou Harry
Please enable JavaScript to view this content.