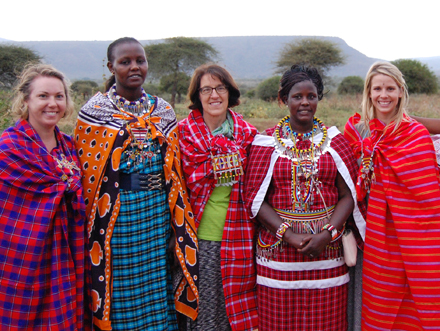 Indianapolis-based tech firm Appirio usually sees its employees engage in traditional volunteering each year during Giving Tuesday, which was earlier this week. But this year, a group of workers switched things up by doing skills-based volunteeering.
Instead of donating their time and manpower at, say, a food kitchen, a team of a half-dozen Appirio employees donated their technical skills to redesign the website for a not-for-profit that educates women in Kenya.
The organization is Portland, Maine-based Kenya Community Education and Action, or KCEA. Its website, a vital channel for fundraising, hadn't been updated since 2010.
"That's what we were hoping to do with the website—to show the stories of these girls so that [KCEA] could get more donations so they could get more girls to get their secondary education there, which is incredibly rare for them in Kenya," said Heidi Williams, who oversees corporate engagement for Appirio.
The idea for the project came from Ashley Mennel, a senior consultant with Appirio who's based in Indianapolis. She's volunteered with KCEA in Kenya in the past and asked Williams in early November if the company would sponsor a 48-hour "hackathon" starting on Giving Tuesday to give the not-for-profit a digital makeover.
Williams said Appirio had done skills-based pro bono work for clients—but nothing along the lines of website redesigns and never such a project on Giving Tuesday.
But she agreed and found some volunteers with the skills to make it happen. Over the course of about three weeks, the squad handled the prep work for the big day, including the picking a platform on which to build the site, designing a logo and font style guide, and compiling all the content for the web pages.
The hackathon volunteers were based in Indianapolis, Boston and other cities across the globe. She said those and other employees were eager to lend a hand, and she's gotten great feedback about the finished product.
The not-for-profit was founded in 2004 by Kenyan local John Keshe, who grew up witnessing intelligent girls as young as 10 get married off and receive no further education. Eventually, he and his wife, Paris, decided they would dedicate their lives to giving girls the opportunity to attend school, allowing them to avoid early marriage and enhance their communities.
"A lot of these girls are the first ones in their village to ever get a chance to go to secondary education," Williams said. "We're just hoping to help them so then they can go back and improve their communities."
Please enable JavaScript to view this content.